Theo nguồn tin tiếng Anh trên trang mạng của prweb.com
Agency Also Announces Fee Reduction for CollegeAmerica
Richmond, Virginia (PRWEB) July 10, 2014
Virginia529 College Savings Plan (Virginia529) has reached a significant milestone in the organization's history, with assets under management surpassing $50 billion this year. Virginia529 also has lowered administrative fees for its largest program, CollegeAmerica.
As of May 31, 2014, Virginia529's total assets have grown to nearly $52 billion. The number represents the college savings of 1.4 million account owners across Virginia and the United States.
According to the College Savings Plans Network, United States investors had accumulated more than $227 billion in 529 plans at the end of 2013. Virginia529's programs make up almost 22 percent of all 529 college savings nationwide, making it the largest. Plans operated by New York and New Hampshire, which had $17 billion and $13 billion in assets respectively as of December 31, 2013, are the next biggest.
Virginia529's largest program is CollegeAmerica, which is available through a partnership with American Funds and offered nationwide through financial advisors. Virginia529 and American Funds recently extended the contract for CollegeAmerica until 2040.
"By extending the contract, our customers continue to benefit from a long and stable relationship with American Funds," said Mary Morris, Chief Executive Officer of Virginia529. "One of the benefits is a decrease in CollegeAmerica's administrative expenses to help investors earn more on their savings."
The reduction includes the elimination on July 1, 2014 of a $10 account setup fee and a $10 annual account maintenance fee. In April, Virginia529 and American Funds reduced administrative fees an average of seven percent, with another drop scheduled when CollegeAmerica assets reach $70 billion. The program had $46 billion in assets under management as of May 31, 2014.
The fee reductions are part of a move to help customers save as much as possible to meet their higher education goals. Virginia529 decreased the fees of its direct-sold savings program, Virginia529 inVEST (inVEST), from 0.20 percent to 0.15 percent in January 2014. In May, Virginia529 eliminated a $25 application fee for new accounts opened online.
About Virginia529 College Savings Plan:

Virginia529 is a 529 college savings plan that offers flexible, affordable, tax-advantaged savings for qualified higher education expenses through its four programs: Virginia529 prePAID SM (prePAID SM), Virginia529 inVEST SM (inVEST SM), CollegeAmerica® and CollegeWealth®. Nearly $52 billion in assets under management and 2.3 million accounts as of May 31, 2014 make Virginia529 the largest 529 plan available. For more information on Virginia529's college savings options, visit Virginia529.com or call 1-888-567-0540 to obtain program materials. These include information on Virginia529 programs, investment objectives, risks, charges, expenses and other important information; read and consider them carefully before investing. All investments are subject to risk, including the possible loss of the money you invest.
For more news about Virginia529 and college savings, follow Virginia529 on Facebook and Twitter.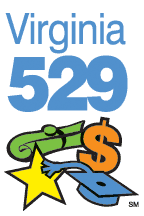 http://www.prweb.com/releases/2014/07/prweb12006009.htm