Theo nguồn tin tiếng Anh trên trang của prweb.com
RZ International-Virginia Primed to Attract International Capital into Virginia Communities
Richmond, VA (PRWEB) April 21, 2015
RZ International-Virginia (RZI-VA) today announced, that its application to the U.S. Citizenship and Immigration Service (USCIS) for designation as an EB-5 Regional Center under the EB-5 Immigrant Investor Pilot Program has been approved. RZI-VA, an international investment firm headquartered in Richmond, is now authorized to access the EB-5 program to attract international investment capital to fund the development of Virginia real estate projects.
Founded by Mike Elias, a veteran of Wall Street firms Morgan Stanley and Deutsche Bank, RZI-VA will be managed by Renaissance Community Partners (RCP), a community economic development private equity and advisory firm with a focus on emerging domestic communities.
Robert K. Jenkins, Jr., a real estate finance attorney and longtime Virginia community economic development practitioner, founded RCP. Jenkins has served as COO of the Norfolk Redevelopment & Housing Authority, the largest municipal community development agency in Virginia. He was the founding CEO of Hampton Roads Ventures (HRV), a successful Norfolk-based community economic development investment firm that is active in the New Markets Tax Credit program.
Just has he did during his tenure as CEO at HRV, Jenkins plans to access the EB-5 program to attract flexible, nontraditional capital to help finance a variety of significant real estate projects throughout Virginia. Some of his previous successful projects include:

Norfolk, Va: The development of a 110-room Marriott SpringHill Suites hotel adjacent to Old Dominion University,
Staunton, Va: The adaptive reuse of the boarded and functionally obsolete Lee High school building into Gypsy Hill, a state-of-the-art mixed-use building with offices and community facilities of the first floor and 70 senior citizen housing units above; and
Duffield, Va: Winegar Medical Center, a 26,500 SF community medical facility that tripled the number of physicians serving the depressed community in rural Appalachia.
"The EB-5 program, like NMTC and other community development finance initiatives, is an excellent vehicle to attract much needed, flexible and non-traditional investment capital into Virginia's inner city and rural communities. Mike and I look forward to partnering with community, business and government leaders to use our EB-5 Regional Center designation to attract capital from across the globe into Virginia communities. We are particularly interested in assisting projects that create jobs while bringing much needed quality goods and services to historically underserved neighborhoods," said Jenkins.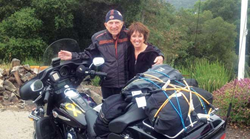 http://www.prweb.com/releases/2015/04/prweb12647830.htm