Theo nguồn tin tiếng Anh trên trang của prweb.com
Science on Tap, a new type of craft beer festival with a science twist, will be held at the Science Museum of Virginia on Saturday, May 9 from 2 – 6 pm.
Richmond, VA (PRWEB) April 27, 2015
A new type of festival is emerging in Richmond's craft beer scene on Saturday, May 9. Science on Tap at the Science Museum of Virginia not only fills your cup with your favorite local brews, but adds science hops for a bold, new flavor.
The 21+ festival hosts local breweries, live music, food trucks and serves up the science behind these frothy beverages. Guests uncover the brewing process with James River Homebrewers, get a first-hand look at the ingredients that go into beer with Original Gravity and discover the sense behind the scent with Huguenot Hops.
"Science on Tap lets folks taste locally brewed beer, ask brewing experts questions and learn about the science behind our favorite drinks all in one spot," explains Scott Francis, President of the Emerging Leaders Council, Science Museum of Virginia. "We'll also be giving the first 1,000 guests through the gate a signature pint glass to use throughout the festival."
Guests can purchase beverages from local favorites including: Ardent Craft Ales, Bold Rock Hard Cider, Center of the Universe Brewing Company, Hardywood Park Craft Brewery, Lickinghole Creek Craft Brewery, Midnight Brewery, Strangeways Brewing and Triple Crossing Brewing Company.
Science on Tap is generously sponsored by BrownGreer PLC; CapTech; Ellwood Thompson's; The Peebles Family; Pia & Don Steinbrugge; Car Pool Car Washes; Carter & Shands, PC; CowanGates; Growlers To Go; Mercer Ferguson; Marks Family Dentistry; Nectar Sunglasses; Retina Institute of Virginia; C.F. Sauer Company; and Sprocket Media Works.
Science on Tap festival admission is $10 for guests 21+ with valid ID. Science Museum of Virginia exhibit admission is not included with festival admission. Science on Tap is presented by the Emerging Leaders Council of the Science Museum of Virginia.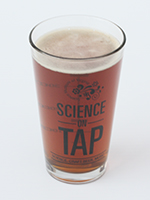 http://www.prweb.com/releases/2015/04/prweb12673836.htm