Theo nguồn tin tiếng Anh trên trang của prweb.com
The Owners' Counsel of America applauds a recent unanimous opinion of the Virginia Supreme Court in which the Court found that VDOT's initial appraisal of a property is a statement of just compensation that is admissible in an eminent domain valuation trial.
Richmond, Va (PRWEB) April 30, 2015
In Ramsey v. Commissioner of Highways, Case No. 140929(decided April 16, 2015) the Supreme Court of Virginia issued an unanimous opinion finding that the Virginia Department of Transportation's (VDOT) initial pre-condemnation appraisal is not a confidential offer of settlement, but rather, an admission of value that should be considered by a jury as evidence of a property's value. The Court's opinion reverses the judgement of the Circuit Court for the City of Virginia Beach and remands this eminent domain case back to the trial court for further proceedings.
The Owners' Counsel of America (OCA) filed an amicus curiae brief in this case questioning whether the jury can be kept in the dark about the most important evidence in an eminent domain trial – the value of the private property taken. OCA urged the Virginia Supreme Court to reverse the trial court's judgment and remand the case for a new trial to determine the amount of just compensation owed to the owners.
Speaking on behalf of the Owners' Counsel of America, eminent domain attorney, Andrew P. Brigham of Brigham Property Rights Law Firm and the Florida representative of OCA, made the following statement. "The Virginia Supreme Court has put an end to the legal loophole that allowed the Commissioner and Department of Transportation to employ bait-and-switch tactics in this case. The Court affirmed that juries should be permitted to hear all relevant evidence of value in a just compensation trial."
"The Ramsey decision is a victory for Virginia property owners and insures that condemnation proceedings remain fair and equitable for landowners throughout the state," said Brigham.
ABOUT OWNERS' COUNSEL OF AMERICA:
The Owners' Counsel of America is a nationwide network of experienced eminent domain attorneys dedicated to protecting the rights of private property owners large and small, locally and nationally, and to advancing the cause of property rights. The lawyers affiliated with OCA are in private practice in nearly every state and represent private landowners against federal, state, and local governments, utilities, transportation and redevelopment authorities and other entities that may be armed with eminent domain power. For more information or to locate a condemnation lawyer in your state, please visit http://www.ownerscounsel.com.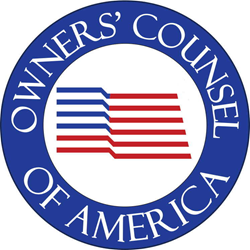 http://www.prweb.com/releases/Ramsey/VA_SC_Decision/prweb12691815.htm