Theo nguồn tin tiếng Anh trên trang của prweb.com
Cinco de Froyo promotion offers customers $5.55 options on the fifth of May.
RICHMOND, VA (PRWEB) May 01, 2015
On May 5 the frozen yogurt chain sweetFrog Enterprises will mark the Mexican celebration of Cinco de Mayo with a twist. The new Cinco de Froyo promotion offers customers the choice of two 12 ounce or one 24 ounce frozen yogurt for $5.55 at participating stores.
The traditional Cinco de Mayo celebration originated in 1862 in commemoration of a Mexican victory over the French. It is now observed mainly in Mexico and the United States, but events are also held in such distant locales as Japan and Australia.
"We've learned from our customers that sweetFrog is the place they choose to go when celebrating special occasions," said Matt Smith, chief marketing officer of sweetFrog. "Celebrating Cinco de Mayo gives us another chance to connect with the communities we serve and share some smiles with our extended family."
About sweetFrog Frozen Yogurt:

sweetFrog (http://www.sweetfrogyogurt.com) is the fastest growing premium, all natural, self-serve frozen yogurt restaurant company in the country. Sweet Frog currently has 348 stores including company-owned, franchise and independently licensed locations either open or under contract in twenty four states in the U.S., Dominican Republic, United Kingdom and soon to be open in Egypt. The company was founded in 2009 and is based in Richmond, Virginia. Sweet Frog prides itself on providing a family-friendly environment where customers can enjoy soft-serve frozen yogurt, gelato and sorbets with premium toppings of their choice. The company was founded on Christian principles and seeks to bring happiness and a positive attitude into the lives of the communities it calls home.
Contact:

Matt Smith, Chief Marketing Officer

matt.smith@sweetfrog.net

(804) 835-6796

10800 Midlothian Turnpike, Suite 300

Richmond, VA 23235
# # #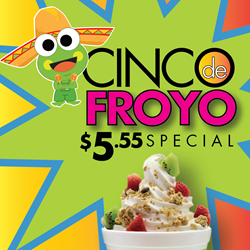 http://www.prweb.com/releases/2015/05/prweb12692870.htm