Theo nguồn tin tiếng Anh trên trang của prweb.com
Pianist/composer Enoch Smith Jr.'s music doesn't fit handily into any narrowly defined stylistic category. On his forthcoming third album, "Misfits II: Pop," the Rochester, New York-born jazz and gospel musician delves into some of the pop and R&B songs that impacted him while he was growing up, shining new light on hits associated with the Beatles, Joan Osborne, Amerie, and the Roots.
Richmond, CA (PRWEB) May 01, 2015
Pianist/composer Enoch Smith Jr. has embraced the "Misfit" mantle ever since his days at Berklee College of Music, when the self-taught musician realized he didn't quite fit into the mold of his classmates and their daunting formal training. But Smith's eclectic, refreshingly different music does fit quite nicely into the ever-evolving jazz tradition. On his third album, "Misfits II: Pop," he continues to refine his approach to the jazz mainstream and other influences, including hip-hop and his ongoing work as a church pianist. Smith's newly launched label, MisfitMe Music, will release the disc on May 19.
The Smith original "Everything's Alright" showcases his gifts as both melodist and lyricist. Expanding on an idea from the song "It's Alright to Swing" by gospel-influenced jazz pianist Eric Reed, the backbeat-driven new composition serves for Smith as something of a declaration of independence from the opinions of some jazz purists.
"Whatever you choose to do, however you do it, it's alright," the pianist explains. "Don't hate me for what I'm doing, and I certainly won't hate you for what you're doing."
Whereas Smith's 2011 "Misfits" CD emphasized his own writing, "Misfits II" delves into some of the pop and R&B songs he grew up with, shining new light on hits associated with Joan Osborne, Amerie, the Roots, and—a special favorite—the Beatles. (The disc opens with a haunting version of "Yesterday.")
"Misfits II" also contains two arrangements of "Sweepin through the City," a staple of gospel superstar Shirley Caesar's repertoire for more than 50 years. "I grew up hearing that song at least three or four times every week," Smith says. "It became an anthem for the church I grew up in. There's a huge emotional connection to that song and the concept of moving on to something better."
Smith's tight-knit working group of vocalist Sarah Elizabeth Charles, bassist and former Detroiter Noah Jackson, and drummer Sangmin Lee, a Seoul, South Korea–born Berklee colleague, are at the core of the music on Misfits II: Pop, as they were on its predecessor, which DownBeat called "soulful and melodious" and "an original album full of ideas."
Enoch Smith Jr., 36, was raised in Rochester, New York in the Church of God by Faith, a Pentecostal denomination, where he began singing at age 3 in the children's choir. He later played drums for services, then got a chance to sub for the regular pianist, making his way through trial and error. "Growing up and playing mostly in church, you get a whole different side of what music is all about," he says. "For me, it was always more of a spiritual connection than a connection of the head."
Although he had originally intended on becoming a lawyer and had done several internships at Rochester law firms while still in high school, Smith decided to interview for admission at Berklee at the suggestion of his high school choir director. He was accepted on the spot. "It was amazing and intimidating and exciting all at the same time," he says of his classes at Berklee. "How much of it I'd gotten didn't sink in until five or six years later. It was a really great experience—probably the best experience of my life."
Smith continues playing piano in church. For the past two and a half years, he's worked full time as Director of Music and Worship at Allentown Presbyterian Church in Allentown, New Jersey, where he lives with his wife and two daughters. In 2014 he started a monthly January-through-June jazz vespers program at the church that has combined worship services with performances by his own quartet, as well as by such musicians as bassist Mimi Jones, saxophonist Stantawn Kendrick, drummer Reggie Quinerly, and saxophonist Camille Thurman (all of whom he's recorded with as a sideman).
Smith has composed music for independent filmmaker Nefertite Nguvu's short "I Want You" in 2007 (he included his version of the title song on "Misfits") and her 2014 feature "In the Morning." The latter film won the audience award when it debuted last month at the Urbanworld Film Festival in Manhattan.
Also on the film front, Smith has tried his hand at acting, portraying Thelonious Monk in "Nica," a 20-minute thesis film by an NYU student about the friendship between Monk and the Baroness Pannonica de Koenigswarter. "It was awesome," says Smith. "I was able to use 'A Misfits Theme' in the film. It was great to play the role of a true 'Misfit' and legendary icon."
The theme for Enoch's next project is suggested by "One of Us" (a hit for Joan Osborne in 1995) on "Misfits II." "As technology improves, our humanity just kinda declines and our value for each other is depreciating," he notes. "This record embodies that concept: What if you look at everyone like that person is a reflection of God, then how would we treat each other?" A question Enoch Smith Jr. intends to ponder.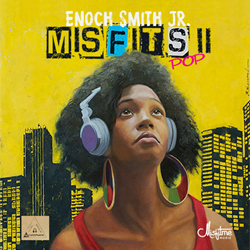 http://www.prweb.com/releases/2015/05/prweb12695376.htm