Theo nguồn tin tiếng Anh trên trang của prweb.com
Applications being accepted for five new programs through EKU Online
Richmond, KY (PRWEB) May 14, 2015
Eastern Kentucky University is accepting applications for five new online degree programs launching in fall 2015.
The programs, an Associate of Science in Paramedicine, a Bachelor of Arts in Political Science, a Bachelor of Science in Emergency Medical Care with Emergency Services Administration concentration, a Bachelor of Science in Child and Family Studies with Child Development concentration and a Master of Music with Music Education focus, are the latest additions to a growing list of majors and programs being offered in an online format by EKU.
EKU has long recognized the value of online learning to busy working adults, who might not otherwise be able to attend a more traditional on-campus program, and was an early adopter of the format, offering its first fully online degree in 2006.
Since that time, EKU's online footprint has grown to include more than 30 programs at the associate, bachelor's, master's, doctoral, certificate and endorsement levels. Program offerings are diverse and include options from Arts and Sciences, Education, Justice and Safety, and Health Sciences colleges.
Tim Matthews, executive director of Eastern Kentucky University's Office of e-Campus Learning, said, "EKU Online offers the same rigorous coursework and exemplary education as on-campus programs, but in a convenient, flexible format that allows adult learners to maintain work and family responsibilities while advancing their career."
EKU Online students have many benefits designed to help them succeed, including:

A personal advisor
Personalized graduation plan
The option to study anytime, from anywhere
Six enrollment dates each year
The ability to progress at an accelerated pace with courses that start every 8 weeks.
To learn more, or to enroll visit go.EKU.edu/fall.
Consistently recognized as having some of the nation's best online degree programs, EKU strives to make quality education accessible to everyone. EKU is an accredited, brick-and-mortar institution celebrating more than 100 years of student success. EKU Online offers more than 30 undergraduate and graduate degree options in a variety of fields, representing Arts and Sciences, Education, Justice and Safety, and Health Sciences.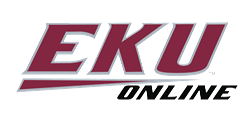 http://www.prweb.com/releases/2015/03/prweb12615960.htm