The Science Museum of Virginia hosts Bikes: Science on Two Wheels from May 30 – September 27, 2015. Get into gear with hands-on exhibits and biketastic programming all summer long.
Theo nguồn tin tiếng Anh trên trang mạng của prweb.com
Richmond, VA (PRWEB) May 20, 2015
Uncover a diverse collection of historic, rare and peculiar bikes as the Science Museum of Virginia opens Bikes: Science on Two Wheels on Saturday, May 30.
Get into gear with hands-on exhibits as you explore energy, force and motion, aerodynamics and engineering. Put on the brakes to take a closer look at the materials that make a bike – from rubber and alloy to foam and plastic. Learn about the latest technologies and test your knowledge of the bikes that have helped shape our culture and society.
"What better way to prepare for the Richmond 2015 UCI Road World Championships than to explore the technologies that make this sport possible?" said Richard Conti, Chief Wonder Officer, Science Museum of Virginia. "Bikes: Science on Two Wheels showcases the evolution of bicycle design from giant turn of the century tricycles to state of the art, aerodynamic racing machines."
Guests peruse a unique collection of customized bikes – including collapsible, recumbent and tandem models – and marvel at a custom kinetic bike sculpture by artist Tom Chenoweth. Alongside the gallery experience, the Museum will display photographs of 120 years of Richmond cyclers and showcase cycling finish line sketches by artist Greig Leach.
This summer the Museum will also put a new spin on Science After Dark, evening events on the 3rd Friday of each month that feature live astronomy in The Dome, special activities and classic movie screenings.
Science After Dark: Bike Editions

Friday, June 19: Get a free bike helmet and fitting, learn about bike safety and journey through the cosmos before enjoying a special presentation of Pee-wee's Big Adventure in The Dome.
Friday, July 17: Pedal toward an evening of science – and enjoy valet bike parking! Take a live Cosmic Expedition through the stars and gear up for a showing of Indiana Jones and the Temple of Doom in The Dome.
Friday, August 21: Explore the night sky and learn about bike safety. Pedal through the galaxy with and grab onto your handlebars as we take you to see The Wizard of Oz in The Dome.
Bikes: Science on Two Wheels is included with Museum admission. Tickets are $11 with $1 discounts for ages 4-12 and 60+. Science After Dark tickets are $5. Visit http://www.smv.org or call 804.864.1400 for details.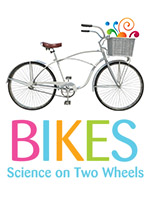 http://www.prweb.com/releases/2015/05/prweb12730868.htm