Canadian electric bike company Surface 604 is launching their new fat ebike this month and are promoting the launch by running a #winmeafatEbike photo contest over social media and a limited time 15% discount on website purchases.
Theo nguồn tin tiếng Anh trên trang mạng của prweb.com


VANCOUVER, CANADA (PRWEB) JULY 15, 2015
Electric bicycle company Surface 604 is excited to announce the launch of their all-new 2016 electric fat bike, expected to be available by the end of July, 2015. Initial industry and public reaction to the prototype bikes – both in North America and Europe – has been so overwhelming for the Vancouver-based company that they're running two separate promotions to capitalize on the growing momentum: one is a #winmeafatEbike photo contest for a free bike giveaway (worth $3,000 CAD) and the other is a 15% discount on pre-launch orders, a limited time offer that also includes custom fenders and custom front/rear racks.
Fat tire bikes, so-called because of their 4" wide tires (twice as wide as mountain bike tires), have been around for more than a decade but have only recently become mainstream, thanks to pioneering bike companies like Surly. The fat tires mark a major departure from accepted bicycle design orthodoxy that has mostly focused on pedaling efficiency. Fat tires are designed to run at extremely low tire pressures – similar to an ATV – providing increased shock absorption, traction and stability. The downside is that low pressure tires are highly inefficient and are a lot of work to pedal, but in the case of Surface 604 the electric assist overcomes the inefficiencies produced by the tires, plus generates enough power to carry cargo up steep hills, requiring little extra effort from the rider.
According to Sam Atakhanov, VP of Product Development, the new bike represents a massive investment for the young company, but one that they believe will pay off:
"We've taken e-bikes to the next logical step, essentially creating the ultimate Sport Utility of bikes. By combining electric assist with fat tires and custom front/rear cargo racks, you've got a bike that takes you anywhere, in any season, plus lets you take all your gear with you… it's an absolute game-changer. Once you take a close look at the design, build quality and the components, for the sub-$3,000 CAD price tag, nothing else even comes close."
The new bike represents a quantum leap forward for the bike company, building on the success of their first design, the "Element", an entry-level model released in 2013 that saw limited production. Surface 604 drew on all that experience to create a bike that bears little resemblance to their first offering. Designed from the ground up in Canada by esteemed frame designer Jason Fear (formerly with Norco), the Boar's clean lines and in-frame battery set it apart from fat bikes with bolt-on electric kits. Testing of the new design occurred over several weeks in the mountains around Whistler, BC and the beaches of Tofino, BC, with test-riders giving the bike top marks for nimble handling and tight build quality.
The Boar will be sold by select retailers in North America and Europe and from the Surface604.com website at a retail price of $2,999 CAD ($2,499 USD), with free shipping via UPS to anywhere in North America. Here are some of the Boar's key features:

In-Frame Battery – The 13.3 Ah Lithium battery is integrated into the downtube for a low centre of gravity and sleek look
High-Torque Geared Hub Motor (250W or 350W) – Bafang's next generation fat bike hub motor is ultra-silent, light and low-profile
SRAM's 1×10 Transmission requires no front derailleur for simplified shifting, a cleaner handlebar and ample gear range
Torque Sensing Battery Management System (BMS) – The torque sensor gauges the pressure on the pedals, giving you more power when you want it, less when you don't. The result is a natural-feeling ride and greatly increased battery range and battery life.
Tektro Hydraulic Disc Brakes for the stopping power and safety needed, even when carrying heavy loads
Suspension Fork Compatible – The new Renegade from RST (available from the Surface 604 website) or the Rockshox Bluto
Available Cargo Racks (Front & Rear) & Fenders
For more information on the new Boar electric fat bike, details about the #winmeafatEbike photo contest, and for more details about the 15% pre-launch discount opportunity, please visit the Surface 604 website http://www.surface604.com.
Surface 604 is a registered trademark of GVA Brands Corp., a Canadian registered corporation. Founded in 2001, GVA Brands is Canada's leader in entry-level powersports offering a wide range of products sold under the brands GIO, Surface 604, Kipor and Cleveland CycleWerks. Each of these brands offer value, quality and style to the budget-conscious consumer.
Surface 604

c/o GVA Brands

Unit 1-11400 Twigg Place,

Richmond, BC, Canada V6V 3C1
For more information, please contact Dave Heighway by email
###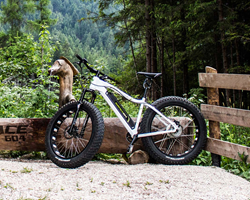 http://www.prweb.com/releases/2015/07/prweb12848777.htm