Complimentary Margaritas, Cooking Classes and Upgraded Rooms Debut as Latest Offerings
Theo nguồn tin tiếng Anh trên trang mạng của prweb.com
RICHMOND (PRWEB) AUGUST 21, 2015
Kindred Resorts & Hotels, a collection of independent hotels and resorts focused exclusively on the group and meetings market, has announced new group packages and programs at its various properties across the United States. Meeting planners can continue to make the most of conferences and events with exceptional amenities and services from Kindred properties throughout the rest of 2015. Located in some of North America's most celebrated locations, Kindred's collection provides outstanding venues and unrivaled expertise for every gathering, from grand conferences to intimate retreats. Below is a selection of the latest group bargains:
For those searching for a venue with a commitment to healthy living, Canyon Ranch, in Lenox, Massachusetts, the world's recognized leader in wellness, is taking the stress out of booking conferences. Until December 31, when planners hold a qualifying meeting of two or more nights with eight or more people, cancellation penalties and attrition are waived.
When it comes to relaxation, the celebrated Saddlebrook Resort in Tampa, Florida caters to every taste. Until December 31, meeting planners who book a minimum of 50 rooms can select from an array of experiences and complimentary offerings such as discounted rounds of golf, complimentary dive-in movies as well as chef demos and cooking classes, golf and tennis clinics, suite upgrades and more. The amount of offerings that planners can choose from varies upon the number of rooms booked, and when more rooms are booked, more savings become available.
Guests can unwind on 40 lush acres in the heart of Scottsdale, Arizona at The Scottsdale Plaza Resort, where on-site conference services managers and experienced plaza planners provide one-on-one assistance for all types of group events. Rates for new bookings start at $139 per night until December 31, and an array of offerings are provided, based upon the number of rooms-per-night contracted. Offerings include a one-hour complimentary margarita reception, complimentary basic Wi-Fi in meeting space up to 1Mbps per person per day, and one complimentary room for every 50 booked rooms.
Corporate conferences are taken to the next level at Skytop Lodge in Skytop, Pennsylvania. Nestled at the top of the Pocono Mountains in Pennsylvania, over 5,500 acres of scenery serve as the perfect backdrop for any meeting. When planners book and hold a conference of at least 25 rooms by December 31, they receive over $2,500 worth of exclusive incentives, such as five percent off master accounts, complimentary meeting room space, and a private campfire with s'mores for attendees.
Through October 20th, the family-owned Sonnenalp Hotel in Vail, Colorado has introduced an outstanding group special starting at $275 per person. Attendees can indulge in various comforts such as lodging in a luxe junior suite, full European breakfasts, one round of golf per meeting attendee at the Sonnenalp Club and waived resort fees.
About Kindred Resorts & Hotels
Kindred Resorts & Hotels is a collection of independent hotels and resorts in North America focused exclusively on the group and meetings market. The consortia is a division of the Resort Hotel Association (RHA), which was founded by the members of what is now the American Hotel & Lodging Association (AH&LA) Resort Committee. The decision to form RHA was driven by independent hoteliers deciding to pool their resources and group purchase insurance. Kindred was formed to help boutique properties that offer authentic, highly personalized experiences build awareness and inquiry from the group, meetings and events markets. With over 60 participating properties across the United States and Mexico, each participating venue offers uniquely authentic and local experiences, which vary from rustic lakeside retreats to luxury golf resorts and destination spas. For more information, visit, http://www.meetkindred.com/ or follow on social media: Facebook, Instagram and Twitter.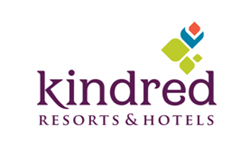 http://www.prweb.com/releases/2015/08/prweb12916016.htm