Jazz saxophonist, composer, and educator John Wojciechowski has established himself as a key figure in Chicago since relocating from his native Detroit in 2002. Working with his tight-knit quartet, he makes an especially vivid impression on his second CD "Focus," which will be released by the Origin label on September 18.
Theo nguồn tin tiếng Anh trên trang mạng của prweb.com
RICHMOND, CA (PRWEB) AUGUST 31, 2015
Tenor, alto, and soprano saxophonist John Wojciechowski has been a mainstay of Chicago's world-class jazz scene since his arrival from Detroit in 2002, forging close alliances with first-call musicians such as pianist Ryan Cohan, bassist Dennis Carroll, and drummer Dana Hall. Those players happen to be the members of his tightly-knit working quartet, who appear on his outstanding new CD "Focus." Origin Records will release the disc, Wojciechowski's first for the label, on September 18.
Boasting seven strong original compositions, each one reflecting a different aspect of the saxophonist's style and personality, "Focus" is one of those supremely enjoyable albums that treats the mainstream not as a comfort zone but a central place from which to push stylistic boundaries and assert original ideas.
Repertoire ranges from the earthy intensity of "Summon the Elders," a spell-casting modal piece reminiscent of John Coltrane and Pharoah Sanders, to the bottom-up inventions of the title cut to the dancing 3/4 patterns of "Twirl," on which Wojciechowski (woy-cha-KOW-ski) shows off his lyrical tenor saxophone sound.
"After the tenor became my 'voice,'" he told CD annotator Neil Tesser, "I think I started to run away from the alto [his first instrument]. So I really wanted to get back to it on this recording." His alto work is featured on the two standards, Thelonious Monk's "Evidence" and Dave Brubeck's "In Your Own Sweet Way": "I like to play alto on those songs; I've been playing them forever."
The two covers on "Focus" reveal the leader's compositional gift as well. He remakes "Evidence" with the clave-informed Latin arrangement and reharmonizing touches he showed off at the 1996 Thelonious Monk Competition (he placed third behind Jon Gordon and Jimmy Greene). And showing off his love of Sonny Rollins and Joe Henderson, he treats "In Your Own Sweet Way" to a coiled, melodically expansive alto trio reading.
"Divided Man," whose two separate sections reflect Wojciechowski's dual existence as a music teacher (at St. Charles North High School, in the historic river city of St. Charles, Illinois) and urban jazz musician, displays the deep-seated unity of this band.
"Elegy," a beautiful piece written for his father, who died two years ago, captures both the gentleness of the man and the hard times he underwent dealing with illness. "I don't usually do programmatic pieces," says Wojciechowski, "but this was really a composition that wrote itself. It's based in my reflection that life is short and I still had a lot to say as an artist. And it brought up a lot of memories about my father."
John Wojciechowski, 41, was born in Mount Clemens, Michigan, 24 miles northwest of Detroit. His father was a sheet metal worker by day and a jazz organist by night in the manner of such B-3 favorites as Don Patterson, Jimmy McGriff, and Richard "Groove" Holmes.
Young John started playing music at age 8, and, recognizing his son's aptitude, his father asked him what instrument he wanted to play. "I chose the saxophone," he says, "because I was drawn to its sound"—particularly that of alto great Sonny Stitt, who made such a stellar contribution to countless organ groups of that era.
The elder Wojciechowski went to extra lengths to find his son a good teacher and came up with a winner in Gerry Gravelle. "He knew all the vocabulary," says Wojciechowski, who by the time he was in middle school was playing alto saxophone, plus clarinet and flute, and was conversant with the Great American Songbook.
He earned his music education degree (at Western Michigan University) at the urging of his jazz elders, and after a brief stint in New York moved back to Detroit, where he took up teaching, performed locally, and worked on his tenor saxophone playing.
"Wojo," as he is known, made the move to Chicago in 2002 and before long found himself in such impressive settings as the Chicago Jazz Orchestra. In 2004 he began teaching at St. Charles, and in 2009 he made his recording debut with "Lexicon," featuring Dana Hall and Dennis Carroll as well as guitarist Dave Miller and pianist Ron Perrillo. Wojciechowski has also performed in pianist/arranger Laurence Hobgood's first post-Kurt Elling band and with such notable young artists as pianist Jacob Sacks, bassist Jeff Campbell, and trombonist Joel Adams.
Whether leading his own group or furthering his already distinguished career as a sideman, John Wojciechowski brings to bear a consummate understanding of where past meets present, where Detroit meets Chicago, where learning meets teaching, and where dedication meets execution.
The John Wojciechowski Quartet with Ryan Cohan, Dennis Carroll, and Dana Hall will be performing the following CD release shows for "Focus": Sat. 9/26 Hyde Park Jazz Festival, Chicago (6pm, Wagner Midway Stage); Wed. 10/28 St. Charles North High School, St. Charles, IL (7:30pm); Fri. 10/30 Green Mill, Chicago (9pm); Sat. 10/31 Green Mill (8pm).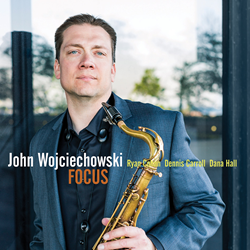 http://www.prweb.com/releases/2015/09/prweb12934629.htm