After musical performances were the majority of last month's submissions to Seniors Guide's "Seniors Got Talent" competition, a diverse new batch of videos pours in.
Theo nguồn tin tiếng Anh trên trang mạng của prweb.com
RICHMOND, VIRGINIA (PRWEB) OCTOBER 30, 2015
"You already know what it is!" The moves to go along with Silento's summer hit "Watch Me (Whip/Nae Nae)" is the viral dance craze that has been sweeping the country. Popular videos have included kids, celebrities, ballerinas and more showing their best whips and nae-naes. But one of the latest comes from an unexpected source: residents of Panorama Senior Apartments in Covington, Kentucky. And it's just one of the great new submissions for Seniors Got Talent.
Another popular new submission is also a dance routine, from the Young At Heart Senior Line Dancers. And if you didn't know they were senior citizens, you might mistake the scene for a college campus. But as a true sign of the diverse field of talent, a time-lapse video of a painting is mixed in with the dance-centric submissions.
"It's always fun to see what surprises are in store for this contest," says Katharine Ross, Vice President of Seniors Guide. "Singing seniors, musical parodies, dance routines, and then a beautiful painting out of nowhere! We're just happy we have two more months to receive these fantastic submissions."
Every summer, Seniors Guide invites residents at independent living communities, assisted living communities, active adult communities and nursing homes to submit videos that showcase their unique skills. All contestants are eligible for cash prizes up to $1,000. Potential contestants have until November 10 to submit. The winner is determined from online votes at the contest's website.
For more information, check out the rules and regulations (link: http://www.seniorsguideonline.com/seniors-got-talent-contest-rules-regulations). And check out the videos at SeniorsGotTalent.com and vote once a day between now and December 31. The winners will be announced in January, when they can claim their cash prizes!
Seniors Guide, a Richmond, Va. -based company publishes Seniors Guide magazines throughout Cincinnati, Ohio; Columbus, Ohio; Dayton, Ohio; Indianapolis, Indiana; Raleigh-Durham, North Carolina; Richmond, Virginia; and Roanoke-Lynchburg, Virginia and features a correlating website of SeniorsGuideOnline.com. Seniors Guide's mission is to help seniors and their families find the information they need on options available in senior housing, senior care, assisted living, independent senior living, retirement communities and other retirement living needs. Seniors Guide also has resources at http://www.HomeCareChoice.com for Cincinnati, Ohio; Columbus, Ohio; Dayton, Ohio; Raleigh-Durham, North Carolina; and Richmond, VA. Ross Publishing, Seniors Guide's parent company, began in 1991 and has been publishing helpful, free publications and websites ever since.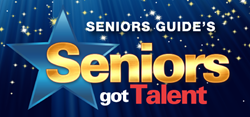 http://www.prweb.com/releases/2015/10/prweb13053219.htm