The "BrainTrain Bugle" offers the latest brain training news
Theo nguồn tin tiếng Anh trên trang mạng của prweb.com
RICHMOND, VA (PRWEB) NOVEMBER 12, 2015
BrainTrain is pleased to announce the launch of a new, online newsletter, the BrainTrain Bugle. Delivered electronically, the Bugle aims to inform subscribers about the latest brain training news, from new developments in neurofeedback and cognitive training to innovative research being conducted around the globe.
The inaugural issue, published November 6, explores using brain training therapies to help patients with Parkinson's Disease. Working memory, mental processing speed, and executive functioning often become progressively more impaired as Parkinson's Disease advances. Research cited in the Bugle article demonstrates that patients with Parkinson's dementia can show significant cognitive improvements through the implementation of cognitive rehabilitation therapy. In addition, the Bugle examines the benefit of neurofeedback training for improving balance in patients with Parkinson's Disease. In the university study reviewed, dramatic improvements in the balancing abilities of Parkinson's patients was reported after only eight sessions of neurofeedback. Links to full research studies and an explanation of the instruments used supplement the information in the article. Research opportunities are also mentioned.
Signing up for the Bugle is simple, always free, and takes only a few minutes. Subscriber information is never shared or sold to a third party. To learn more about the Bugle and read the first edition, visit BrainTrain.com/bugle.
About BrainTrain, Inc.
BrainTrain, Inc. was founded in 1989 by Joseph A. Sandford, Ph.D. Before becoming a clinical neuropsychologist, Dr. Sandford was a professional computer programmer, so it was natural for him to perceive how the computer could be an indispensable tool for helping people. Using the computer as a way to improve people's quality of life through cognitive enhancement continues to define BrainTrain's mission.
Subscribe to the BrainTrain Bugle at http://www.braintrain.com/mailing-list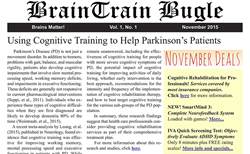 http://www.prweb.com/releases/2015/11/prweb13075514.htm