Brand Introduces The Santa Swirl To Celebrate The Season
Theo nguồn tin tiếng Anh trên trang mạng của prweb.com
(PRWEB) NOVEMBER 12, 2015
sweetFrog Enterprises, LLC is excited to announce a special Christmas promotion featuring its lovable mascot Scoop, who has been appointed as an honorary elf by Santa Claus to help compile his list of good little girls and boys. In addition, sweetFrog has created a delicious holiday treat, The Santa Swirl, and designated it as the Official Treat of The North Pole.
Topped with crushed candy canes and hot fudge, The Santa Swirl is a tasty twist of Chocolate Hazelnut and Italian Cookie gelato. It will be a limited time offering, available in sweetFrog shops starting Black Friday through the end of December.
Scoop the Elf is a limited edition plush toy wearing a red suit and hat with white trim, who will soon become a part of holiday celebrations worldwide. Scoop the Elf can be ordered online now at http://www.sweetfrog.com and will be in sweetFrog shops starting November 23.
"Scoop's new role as Santa's helper is sure to bring smiles to sweetFrog fans everywhere," said Matt Smith, chief marketing officer for sweetFrog. "And, we're thrilled to begin two new holiday traditions with Scoop the Elf and The Santa Swirl."
About sweetFrog Frozen Yogurt:
Sweet Frog (http://www.sweetfrog.com) is the fastest growing premium, all natural, self-serve frozen yogurt restaurant company in the country. Sweet Frog currently has 352 stores including both company-owned, franchise and independently licensed locations either open or under contract in twenty-four in twenty four states in the U.S, Dominican Republic, United Kingdom and Egypt. The company was founded in 2009 and is based in Richmond, Virginia. Sweet Frog prides itself on providing a family-friendly environment where customers can enjoy soft-serve frozen yogurt, gelato and sorbets with the toppings of their choice. The company was founded on Christian principles and seeks to bring happiness and a positive attitude into the lives of the communities it calls home.
Contact:
Matt Smith, Chief Marketing Officer
matt.smith(at)sweetfrog.net
(804) 835-6796
10800 Midlothian Turnpike, Suite 300
Richmond, VA 23235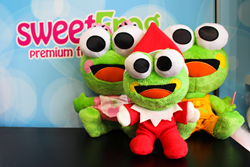 http://www.prweb.com/releases/2015/11/prweb13073783.htm