Over the past decade, San Francisco Bay Area drummer Brian Andres and his Afro-Cuban Jazz Cartel have expanded their rhythmic purview across the Caribbean while collaborating with many of the world's finest Latin jazz practitioners. With the release of the ensemble's third album, "This Could Be That," Andres cements the Afro-Cuban Jazz Cartel's status as a creative force to be reckoned with.
Theo nguồn tin tiếng Anh trên trang mạng của prnewswire.com
RICHMOND, CA (PRWEB) DECEMBER 08, 2015
Drummer Brian Andres has been leading his powerhouse Afro-Cuban Jazz Cartel since 2007, establishing them as a prime voice in the thriving San Francisco Bay Area Latin jazz scene. With his third album, "This Could Be That," which is due for release by his Bacalao Records imprint on January 15, Andres and his Cartel exert a firm grip on the music's cutting edge, playing with confidence, poise, and rhythmic imagination.
Featuring a core octet drawn from the cream of local players, "This Could Be That" includes guest appearances by innovators such as Cuban-American vocalist Venissa Santi, Fania All-Stars timbalero Louie Romero, bata master Michael Spiro, Peruvian percussion star Alex Acuña, and percussion maestro John Santos. Over the past decade, the Cartel has earned a sterling reputation as a turbo-charged vehicle for interpreting challenging material, and "This Could Be That" includes compositions and arrangements by top-shelf writing talent from within and outside the band's ranks.
"The first two albums we did had concepts," Andres says. "Our debut 'Drummers Speak' [2007] focused on compositions by Latin percussionists and jazz drummers. 'San Francisco' [2013] highlighted composers and arrangers of the Bay Area. On this one, things just happened organically. Everybody wanted to contribute. We ended up with a lot of different things in the record, and there wasn't one single thread." But the album's disparate program expresses the
Cartel's vivid and distinctive personality.
In many ways "This Could Be That" embodies the Bay Area's close-knit Latin music community, which got a burst of international attention when the Pacific Mambo Orchestra won the 2014 Grammy Award for Best Latin Tropical Album. The PMO's co-leaders, German-born trumpeter Steffen Kuehn and Mexico City-raised pianist Christian Tumalan, both play a significant role in the Cartel. Kuehn, who plays on about half the album's tracks, brought in a state-of-the-art timba-powered arrangement of his original "Limite," which features Cuban timbalero Calixto Oviedo as a special guest. And Tumalan, who holds down the Cartel piano chair, "and is integral to developing the sound of the Cartel" Andres says, contributed a thrilling Cubanized arrangement of Chick Corea's Elektric Band anthem "Got a Match?" that slyly references Corea's standards "Armando's Rhumba" and "Spain."
Other highlights include the (translated) title track, "Esto Puede Ser Eso," a lovely cha cha by Cartel percussionist Javier Cabanillas and arranged by Cabanillas and trombonist Jamie Dubberly, who leads one of the Bay Area's top salsa bands, Orquesta Dharma; bassist Saul Sierra's arrangement of the Daniel Ponce salsa classic "Bacalaitos," with legendary Nuyorican percussionist Louie Romero adding conga, timbales, and maraca; and the bilingual bolero rendition of "My One and Only Love," featuring Cuban-American vocalist Venissa Santi as well as Andres's father Mike Andres on alto saxophone (reuniting him with a piece he recorded years ago with Cincinnati's Symphony Jazz Ensemble).
Born (in 1968) and raised in Cincinnati, Ohio, the son of professional musicians, Brian Andres started playing drums in the fourth grade. After high school, he took classes at the Cincinnati College-Conservatory of Music but abandoned formal studies once he landed a full-time gig with veteran bluesman Cincinnati Slim and the Headhunters.
Andres was in the midst of a thriving career playing rock, funk, R&B, and blues when he experienced his clave epiphany, courtesy of the Cleveland salsa band Impacto Nuevo. "It changed my trajectory of where I wanted to go," Andres recalls. "I've often likened it to the first time I kissed a girl. I just wanted to do it over and over again. The first time I heard it done well live, it had me."
He put together a Latin jazz band of his own, and started buying up whatever albums he could find, which introduced him to leading Bay Area artists such as John Santos's Machete Ensemble, Andy Narell, and Pete Escovedo. It was Bay Area Latin jazz stalwart, the late Dutch-born drummer Paul van Wageningen, who convinced him to make the move to San Francisco rather than New York or L.A. by offering real encouragement when Andres came through town on a visit.
Landing in the Bay Area in early 1999 at the height of the high-tech boom, Andres quickly found work in an array of Latin settings, playing salsa, Latin funk, and Latin jazz. He undertook his first recording under his own name in 2007, motivated by his love of the multidimensional writing of Latin jazz pioneers Tito Puente and Eddie Palmieri, and has been developing the Cartel concept ever since. This month he placed among the Top 20 drummers in the Down Beat Readers Poll, right behind Eric Harland, Dave Weckl, and Cindy Blackman Santana.
"It's an honor to have so many world-class musicians on the new album," says Andres. "That they all were willing to contribute to the recording is a testament to the high quality of music that we've created."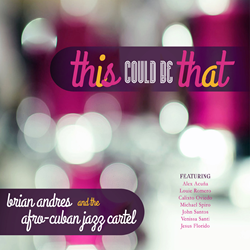 http://www.prweb.com/releases/2015/BrianAndres/prweb13119193.htm