Theo nguồn tin tiếng Anh trên trang mạng của prweb.com
The Series Will Be On Sale During the Kindle Countdown Deal from July 3 to July 8, 2014
Richmond, VA (PRWEB) July 07, 2014
Paula Parker, an author of True Ghost Story novels, recently announced that she has added a new novel to her "Westover" Series: "Malice of the Father." To commemorate the launch of "Malice of the Father," Parker is having a promotional sale on Amazon from July 3 to July 8, 2014.
For those six days, the sale will occur through the Kindle Countdown Deal. On July 3 and 4, "Malice of the Father" will be on sale for 99 cents; on July 5 and 6, the book will be on sale for $1.99; and on July 7 and 8, the book will be available for $2.99.
According to an article available on Parker's website, the Paranormal series includes two books: "Sins of the Daughter" and "Malice of the Father." "Sins of the Daughter" was inspired by the ghost stories of the Westover plantation in Charleston, West Virginia, focuses on its main character's, Evelyn, past in the druid community and her inability to reincarnate. She meets Riley Harrison, a character who is dedicated to solving the puzzle of Evelyn's being and figuring out while she is still roaming the grounds of her home—and unexpectedly, their lives intertwine.
In a similar fashion, "Malice of the Father" brings Riley and another character, Ian, together again as they work to uncover family secrets. The pair can no longer team up with Evelyn, so they must search tirelessly for their next teammate in the fight against the druid council.
"Sins of the Daughter" is available in Kindle, Kobo, and paperback versions, while "Malice of the Father" can be found in Kindle and Paperback editions.
Individuals interested in learning more about Paula Parker and her Romance suspense series can visit the author's website for additional information. Any questions, comments, and concerns about Parker's work can be asked through her website.
About Paula Parker:
Paula Parker (1968-current) graduated—in addition to achieving appointments to multiple President's and Dean's list—from University of Phoenix with a bachelors degree in Healthcare Administration. Parker was born and grew up in Port Huron, MI and moved to her current home in Virginia the winter of 2012. Her first published work was a poem published in a collection of poetry, but her first book "Sins of the Daughter" was published in January 2014. For more information, please visit http://www.authorpaulaparker.com.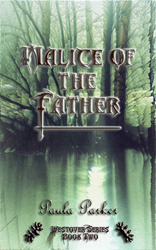 http://www.prweb.com/releases/Romance-suspense/True-Ghost-Story/prweb11997953.htm