Theo nguồn tin tiếng Anh trên trang mạng của prweb.com
In a career spanning three decades, preeminent guitarist Bobby Broom has demonstrated a keen ear for rarely played material, a gift for composing evocative tunes, and impressive facility with the knotty rhythmic puzzles of Thelonious Monk, which is what makes his new album "My Shining Hour" such an unexpected revelation. The luxuriantly melodic session features Broom's working trio focusing on beloved American Songbook standards.
Richmond, CA (PRWEB) July 09, 2014
While Bobby Broom's 2012 CD "Upper West Side Story" ("a spectacular album"—DownBeat) focused exclusively on original material, the guitarist takes a very different track with "My Shining Hour," due for August 19 release from Origin Records. The luxuriantly melodic session features Broom's working trio—with bassist Dennis Carroll and drummer Makaya McCraven—placing their stamp on beloved American Songbook standards.
"When I formed the trio in 1991 it was to avoid playing weather-worn standards with makeshift groups," Broom says. But when bassist Carroll suggested they adopt "Jitterbug Waltz," Fats Waller's classic tune ended up opening the door to "the great songs that have lasted, that became part of the American quilt. Only one of the pieces we recorded had been in the trio's repertoire. These were all newly approached by me and the group."
In addition to the title selection and "Jitterbug Waltz," the program includes "Just One of Those Things," "Oh, Lady Be Good," "My Ideal," and "Sweet Georgia Brown." Two other songs, Lerner and Loewe's "The Heather on the Hill" and the non-standard "Tennessee Waltz" were picked up by Broom during his lengthy tenure with Sonny Rollins.
It's a testament to the trio's cohesiveness and deeply shared intuition that the album ends up feeling like far more than a collection of familiar tunes. Broom's free-spirited approach provides plenty of room for Carroll's subtle interplay and McCraven's dancing figures.
"What I've had to come to terms with is the spaciousness that is inherent in the guitar trio," Broom says. "In the beginning there was all this room, and no one playing chords behind me when I'm soloing and playing melodies. Now I almost accompany myself with chords as I play melodies, and the melodies shape the harmonies during my solos."
Carroll, who came up on the Chicago scene playing with heavyweights like Jodie Christian, Bunky Green, and Clifford Jordan, has anchored Broom's trio for more than two decades. There's been more turnover in the drum chair, which has become something of a launching pad for stellar young players. From George Fludas and Dana Hall to Kobie Watkins, Broom's drummers have all joined the elite ranks. McCraven, who started playing with Broom about five years ago, is on the same trajectory.
"Makaya is all of 30, and he came along after Kobie was getting really busy," Broom says. "He's got a certain nonstop intensity and energy, a free-flowing array of ideas that touch on a variety of styles. And Dennis and I have played for such a long time we really work as a tandem. He's very harmonically astute, and wants to find the right colors for the moment."
Broom's other threesome, the Deep Blue Organ Trio, disbanded last year after more than a decade together, which included working on several occasions as Steely Dan's opening act. For Steely Dan's summer 2014 Jamalot Ever After Tour, Rock and Roll Hall of Famers Walter Becker and Donald Fagen invited Broom to join them once again. The result is the brand-new Bobby Broom Organi-sation, with Makaya McCraven or Kobie Watkins, drums, and Ben Paterson, organ.
Their upcoming performances on the 46-city, 56-show tour will find its leader delving into material from "Modern Man" Broom's seminal 2001 Delmark Records organ-group recording (which featured Dr. Lonnie Smith), as well as some of his trio's versions of '60s and '70s pop music classics.
"I'm looking forward with anticipation to taking these excellent, energetic young musicians around the country with me to play jazz for the masses," says Broom. "What an extraordinary forum it will be for us to do that. My hat's off to Steely Dan!"
Complete tour dates are listed at http://www.steelydan.com. (The trio will not be appearing in the following cities, as the venues do not support opening acts: Thackerville, OK, 7/18; Niagara Falls, NY, 8/8; Hammond, IN, 8/17; Windsor, Ont., 8/22.)
Broom will take time out from the tour to perform a CD release show with his guitar trio at the Chicago Jazz Festival on 8/31. "It's been nearly 15 years since the Bobby Broom Trio has played the Festival," says the guitarist. "Back then was a significant time for us. We were still forming our identity and had just recorded, but not released, 'Stand!' It will be great, after the whirlwind Steely Dan tour, to return home in more ways than one and to play this glorious venue."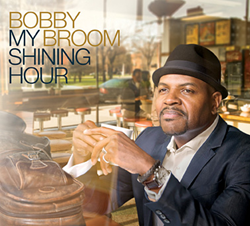 http://www.prweb.com/releases/2014/07/prweb12005300.htm