Theo nguồn tin tiếng Anh trên trang của prweb.com
Keep the Spirit of '45 Alive coalition to honor legacy of "Greatest Generation" with events throughout country, international wreath laying
Richmond, VA (PRWEB) April 16, 2015
E. Bruce Heilman, an 88-year-old veteran of the Battle of Okinawa and chancellor of the University of Richmond, Virginia, is embarking on a 6,000-mile motorcycle ride across America to help raise public awareness about the 70th anniversary of the end of World War II that will be commemorated throughout the country this summer.
Heilman will travel through more than 20 states during a monthlong coast-to-coast tour that begins on Thursday, April 23, when he departs from the Marine Base at Quantico in Virginia and travels cross country to San Diego where he received his basic training before being shipped out with 800 fellow Marines to fight in the final battle of the war in 1945. On Mothers Day (Sunday, May 10) he will be escorted by a group of bikers from San Diego to Las Vegas to begin his return trip to Washington, DC where he will join the annual Rolling Thunder motorcycle rally and ride in the National Memorial Day Parade on Monday, May 25.
"This is a very special Memorial Day for me," said Heilman. "More than 14,000 young Americans lost their lives during the 83 days of the Battle of Okinawa 70 years ago. It is important that we never forget them as we honor the Gold Star families of all eras who have paid such a price for the freedoms we too often take for granted."
Heilman will be making several whistle stops along the way, including a visit with Iowa Governor Terry Branstad who is encouraging his fellow governors to support a nationwide 70th Anniversary Commemoration Weekend on August 14 – 15 – 16, which will include events in Times Square, flyovers by WWII aircraft, rallies of Rosie the Riveter lookalikes, '40's style swing dances and concerts, and an around the world wreath laying ceremony honoring America's "greatest generation."
Heilman will also visit the national headquarters of the American Legion when he rides through Indianapolis en route to the nation's capitol. The American Legion Riders, which has more than 100,000 members throughout the country, are providing logistical support to help assure the success of Heilman's ride.
Heilman is undaunted by the prospect of riding solo for long distances on 1,000 pounds of bike and gear. Last year he traveled more than 10,000 miles from Virginia to Alaska and back to honor his late wife, Betty, who gave him his first Harley on their 50th anniversary when he was 72, telling him that he was finally old enough to have a motorcycle.
A lifelong educator, Heilman hopes that the youth of America will actively participate in this year's 70th anniversary commemoration and carry forward the legacy of his generation.
"I am confident that today's youth have the same qualities of character and potential for greatness as my generation," said Heilman. "There are plenty of big challenges facing them."
For updates on Chancellor Heilman's Memorial Day Ride, please call (408) 857 5252 or visit http://www.Spiritof45.org. Donations to support the Ride are welcome encouraged, and are tax deductible.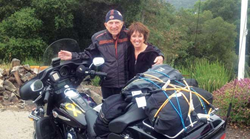 http://www.prweb.com/releases/2015/04/prweb12660434.htm