Described by one critic as "an artist unafraid and bending the tradition," keyboardist/composer Michael Gallant has never been one to play as written. With his new augmented trio CD "Live Plus One," due for release October 9 on his Gallant Music label, Gallant reintroduces his disruptive musical tendencies within the context of a lush and powerful live album.
Theo nguồn tin tiếng Anh trên trang mạng của prweb.com
RICHMOND, CA (PRWEB) AUGUST 12, 2015
With his well-received 2013 debut "Completely," keyboardist/composer Michael Gallant emerged as a stylistically omnivorous musical force, "an artist unafraid and bending the tradition," in the words of one critic. Gallant continues to explore his disruptive musical proclivities on his sophomore release, "Live Plus One," due out October 9 from his Gallant Music label.
Recorded live and almost exclusively at Levine Music in Washington, DC, where Gallant studied piano as a teenager, "Live Plus One" first came together when the school invited him to perform as part of an alumni concert series in 2014. With his Nord Electro 3HP keyboard tucked underneath the keybed of a Steinway Model D, Gallant delivered a sumptuously inventive set with his working trio: electric bassist Dmitry Ishenko and drummer Rob Mitzner, a longtime friend and once-again bandmate from Gallant's days growing up in the DC area. The ensemble performed a kinetic program of Gallant originals, joined on five tracks by veteran DC acoustic bassist Pepe Gonzalez (the "plus one"), whom Gallant has considered a mentor since his teenage years.
"When I work with this trio," says Gallant, "I want to combine the sophistication and rigor of the pianists I love—people like McCoy, Herbie, Duke, and Bill Evans—with the raw energy of the grunge rock acts that I grew up with. Melding those influences is a big reason why I play the Nord and piano at the same time. I love how those sounds can melt and fuse with each other, like two sides of the same voice."
Co-produced by Gallant and his wife and frequent musical collaborator Rachel Rossos, the album opens with "Returned," a quietly captivating piece that combines the lush chords of a rock anthem with the soaring harmonies of a Romantic concerto. "Completely," the album's centerpiece, is fueled by a powerful rock riff that embodies the "edge, rawness, and rage" of Gallant's grunge roots "with more delicate, soaring harmonies and melodies." "Greens" is an altered blues that develops fierce momentum; the passionate "Sandra and Michel" was inspired by the legendary Dominican pianist Michel Camilo and his wife; "The Real Maria" is a piece of buoyantly grooving piano funk that pays tribute to his influential piano teacher Maria Rodriguez. "Love You Better," a solo stride-piano and dissonance-infused excursion recorded live at Musideum in Toronto, is the album's closer.
Recently, Gallant was commissioned to compose, perform (leading a quartet), produce, and record original jazz for use in the Hollywood film "About Ray," a transgender-themed drama starring Elle Fanning, Susan Sarandon, and Naomi Watts. Fanning plays a New York City teen transitioning from female to male; Watts is her single mother and Sarandon, a lesbian jazz manager/grandmother. The film is due for a 9/18 release by the Weinstein Company.
A noted music journalist, Gallant spent almost a decade as a writer, and eventually Senior Editor at Keyboard magazine, interviewing artists ranging from Dave Brubeck and Billy Joel to will.i.am, Herbie Hancock, and many more. Often, his interviews would evolve into four-hand jams at the piano.
Born in Silver Spring, Maryland in 1980, Michael Gallant attended Sidwell Friends School in Washington, DC. The son of a musical family, he began piano lessons at age five, but it wasn't until he began studying with Maria Rodriguez at Levine Music that jazz became a true focus. "I had always appreciated jazz and knew who Duke Ellington was, but she was the one who got me into improvised music and taught me the blues," Gallant says.
He attended Columbia University, where a spontaneously chosen class on Japanese doomsday cults inspired him to earn an undergraduate degree in anthropology. "Being interested in pretty much everything, music and beyond, is a big part of my personality," Gallant says.
Gallant's work at Keyboard began shortly after he earned his degree in 2003 and continues to date. He resigned his full-time editorship in 2009 to run Gallant Music LLC, a company through which he has composed theme music for the world's first iPad interactive graphic novel, scored the award-winning indie feature drama Remedy, and released albums by both the Michael Gallant Trio and Aurical, Gallant's singer/songwriter project with Rossos; the latter group made its Lincoln Center debut in 2013.
Still an avid journalist, Gallant's writing clients include the National Endowment for the Arts, the U.S. Department of State, and DownBeat. As a studio musician, Gallant contributed to the album "Winds of Samsara" by Ricky Kej and Wouter Kellerman, a project that won the 2015 Grammy Award for Best New Age Album.
"Jazz is the best label for what we do, but it's only part of the picture," Gallant says of his trio. "There was such a great vibe in that room when we recorded live at Levine, playing for my friends and family in my hometown. It was wonderful to be able to capture that in a project that I'm really proud of."
Fall 2015 Performances by Michael Gallant (more to be announced):
Thurs 9/24 (6pm), Hopewell Valley Vineyards, Pennington, NJ
(duo performance with James Popik, g)
Tues 9/29 (8pm), Monthly Residency at Tomi Jazz, 239 E. 53rd Street, NYC
(with Dmitry Ishenko, eb; Rob Mitzner, d)
Sat 10/10 (8pm), The Record Collector, Bordentown, NJ
(with Dmitry Ishenko, eb; Rob Mitzner, d)
Fri 10/16 (9:30pm), Kuumbwa Jazz, Santa Cruz, CA
Fri 10/23 (8pm), The Sound Room, Oakland, CA
Fri 11/6 (8pm), Buttonwood Tree Performing Arts Center, Middletown, CT
(with Dmitry Ishenko, eb; Rob Mitzner, d)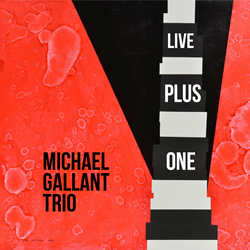 http://www.prweb.com/releases/2015/08/prweb12902112.htm