On his fourth CD as a leader, charismatic trumpeter/vocalist Bob Merrill assembled a stellar crew of jazz players–including keyboardist John Medeski and guitarist Drew Zingg–with whom he happens to share deep musical friendships. Merrill's task of cheerin' up the universe is reflected and supported by his choice of joyful repertoire, performed throughout with real jazz and real blues feeling.
Theo nguồn tin tiếng Anh trên trang mạng của prweb.com
RICHMOND, CA (PRWEB) AUGUST 19, 2015
Trumpeter/vocalist Bob Merrill has had an amazingly varied career in and around music—mentored by his late father-in-law Joe Bushkin, Jaki Byard, and Red Rodney; starting and operating Hip Pocket Recording Studios in New York City; and recording as a leader himself. "Cheerin' Up the Universe," his new CD and fourth to date, is being released September 4 by Accurate Records, which has also reissued two of Merrill's earlier albums ("Catch As Catch Can," "Got a Bran' New Suit").
In the great tradition of trumpeter-singers, going back to Louis Armstrong, Dizzy Gillespie, Chet Baker, and Louis Prima, Merrill is both a carefree entertainer who wants to lift up his audience and a serious artist who pays the deepest respect to jazz tradition with his mastery of forms.
On previous albums, the New York-based artist mined the jazz mainstream, sometimes with a stylish Rat Pack-era sound, sometimes with a deeper blend of late swing and hard bop—and always, says Accurate Records honcho Russ Gershon, who has known Merrill since they were classmates at Harvard, with real jazz and real blues feeling. "He has a passionate attachment to the real thing," said Gershon, leader of Either/Orchestra, who lends his saxophone skills to the album.
Backed by such one-of-a-kind guest players as trombone great Roswell Rudd and keyboardist John Medeski, Merrill indulges himself—and anyone who has grown up loving the likes of James Taylor ("The Secret o' Life"), Steely Dan ("IGY [What a Beautiful World]"), Burt Bacharach ("I Say a Little Prayer"), and Stevie Wonder ("Overjoyed")—by applying his personal touch to a selection of pop hits that in spirit and title promote happiness. For a little icing on the cake, he covers Pharrell's inescapable "Happy," with the lyrical bassist Nicki Parrott harmonizing and a touch of Lee Morgan's infectious "Sidewinder" informing the bridge. The title track, a fetching Merrill original, aims to cheer up the universe "one star at a time."
Merrill has deep history with the musicians on the date: guitarist Drew Zingg was a grade school classmate; his friendship with drummer George Schuller dates back to boarding school; keyboardist/arranger John Van Eps first connected with Merrill at the New England Conservatory.
John Medeski, who contributes to four tracks on piano and two on organ, met Merrill in 1989, when the keyboardist was hired, at Gershon's suggestion, for a gig in Cambridge. "Russ also suggested some bass players who were all booked," Merrill explains. "But my last call was to Chris Wood, who was free. It was on that gig that Medeski met Wood, and they later added Martin—the rest is history."
Bob Merrill has had similar encounters with kismet throughout his life, which began in 1958 in Manhattan. He grew up in the Upper East Side building where Benny Goodman lived, and once he'd heard Goodman's "Sing, Sing, Sing," young Bob was hooked on jazz. After his head was turned by Doc Severinsen's trumpet playing during a Tonight Show taping his father took him to, Bob devoted himself to the horn. He took lessons and played gigs with local trumpet guru Felix Sangenito and also studied with William Vacchiano, first trumpet chair at the New York Philharmonic.
While attending Phillips Academy in Andover, Massachusetts, he jammed with saxophonist Thomas Chapin. Accepted at Harvard, Merrill deferred for a year to study jazz at the New England Conservatory of Music, where his teachers included George Russell and Jaki Byard. He formed a group with drummer George Schuller, son of the late Gunther Schuller, then president of NEC.
Merrill began singing, he says, when he played wedding gigs and discovered that attractive women on the dance floor turned to hear what someone on stage was singing more than they ever turned to hear what someone was playing. His relaxed vocals add an important dimension to his art. He modestly says that his understated style is a concession to his vocal limitations. But with his Mel Tormé-influenced smoothness and Kurt Elling-like articulation, he is an appealing and distinctive interpreter of the Great American Songbook.
After marrying Christina Bushkin in 1991, Merrill coaxed her father, the fabled swing pianist Joe Bushkin, out of retirement. One of their first gigs was a memorable run at Tavern on the Green in Central Park with a group featuring bass immortal Milt Hinton, who credited Bushkin for bringing him to New York in the early '50s for an extended run at the Embers with Jo Jones. Merrill produced CD reissues of Joe Bushkin's classic LPs, and they played the jazz festival circuit until the pianist's death in 2004.
The release of "Cheerin' Up the Universe" opens a new chapter in Merrill's musical life. "We now embark on the process of cheering up the universe in various venues, until we reach Pluto," says Bob. He'll be appearing in support of the new album at the following: 9/17 Caffe Vivaldi, NYC; 9/24 Oak Room Tavern, Sea Cliff, NY; 10/22 Treme, Islip, NY. Additional dates are in the works.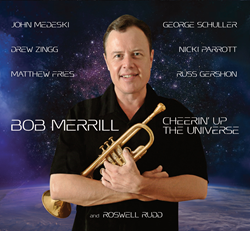 http://www.prweb.com/releases/2015/08/prweb12914703.htm