sweetFrog Premium Frozen Yogurt will be sold at all events.
Theo nguồn tin tiếng Anh trên trang mạng của prweb.com
RICHMOND, VA (PRWEB) SEPTEMBER 08, 2015
sweetFrog Enterprises has announced a partnership with the Richmond Coliseum for the naming rights of the Coliseum's box office. Under the agreement, the box office will be renamed the "sweetFrog Box Office." The Richmond Coliseum is a 13,500 seat multi-purpose sports and entertainment venue.
"sweetFrog started in Richmond and we love being a part of the Richmond community," said Matt Smith, chief marketing officer of sweetFrog. "This sponsorship of the Coliseum is a great opportunity and we look forward to enjoying all the events and sharing the great taste of sweetFrog with the fans."
The agreement includes the creation of a branded sweetFrog concession stand and new signage to frame the Coliseum's exterior box office and interior will call lobby. Signage will be installed prior to the Disney on Ice shows on September 10-13. In addition, discount coupons for sweetFrog Premium Frozen Yogurt will be printed on all event tickets.
About sweetFrog
sweetFrog (http://www.sweetfrogyogurt.com) is the fastest growing premium, all natural, self-serve frozen yogurt restaurant company in the country. Sweet Frog currently has 358 stores including company-owned, franchise and independently licensed locations either open or under contract in 27 states in the U.S., Dominican Republic, United Kingdom and Egypt. The company was founded in 2009 and is based in Richmond, Virginia. Sweet Frog prides itself on providing a family-friendly environment where customers can enjoy soft-serve frozen yogurt, gelato and sorbets with premium toppings of their choice. The company was founded on Christian principles and seeks to bring happiness and a positive attitude into the lives of the communities it calls home.
###
Contact:
Matt Smith, Chief Marketing Officer
matt(dot)smith(at)sweetfrog(dot)net
(804) 835-6796
10800 Midlothian Turnpike, Suite 300
Richmond, VA 23235
# # #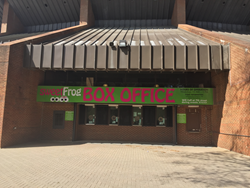 http://www.prweb.com/releases/2015/09/prweb12948747.htm