Berkshire HorseWorks Hosts Equine Assisted Workshop to Help Voters of All Generations Work through Frustrations, Fears and Positions during Role Playing Activities with Horses on Saturday, March 19 from 11AM to 2 PM
Theo nguồn tin tiếng Anh trên trang mạng của prweb.com
RICHMOND, MA (PRWEB) FEBRUARY 16, 2016
Berkshire HorseWorks, Inc. ™ a 501(C)3 will be holding a half day workshop utilizing the EAGALA Model of Equine Assisted Learning to help constituents of all ages vent frustrations, and share and navigate issues facing the candidates in the 2016 Presidential race on Saturday, March 19th from 11AM – 2 PM at the Berkshire Equestrian Center (40 Perry's Peak Rd Richmond, MA 01254). Registration is $65. The three hour workshop will be held following Super Tuesday, a time when passions are high, issues are at the forefront, and fears are intense. Whether Democrat or Republican, and whether the topics important to you are the economy, Isis, or climate change, this workshop will allow you to work with people of disparate views in a safe environment and in a unique format. What does safe look like? What resources and vulnerabilities do we bring to the election and what traits do people see in each horse that resemble their candidate? Through the powerful interaction with horses in ground-based activities, participants will have to work across the aisle to overcome their differences and construct a better America.
The workshop will consist of three segments:
The first phase will focus on expressing feelings. Through the use of props, participants will draw on their own creativity to build physical manifestations of their positions while horses run free in the arena. During the exercises, how will the horses be integrated? Are the horses the candidates or the emotions? Are they stubborn or can they evolve? How do the voters approach the concept of trust? Will the intractable 1,398 pound blue-eyed paint become Trump? Will the diminutive brown pony invoke thoughts of Rubio? Or will the 18-hand looming thoroughbred conjure personality traits of Clinton?
The second segment will include role playing the electoral process. Who is blind to the obstacles in the path to universal healthcare? And who will literally be blind-folded to navigate and resolve the issues surrounding passage while having to trust input from others? Will the four-legged Bernie be labeled the largest obstacle to maintaining Obamacare?
The last segment will call for participants to work together to create a metaphorical build of the America of the future. Will they choose a Bible to represent faith in their build? Will Ted Cruz be included in the new America? How will the constituents transition four-legged beings into new spaces if they aren't even wearing halters? Where does Kasich fit in?
The EAGALA Model of Equine Assisted Learning and Equine Assisted Psychotherapy, practiced by 4,500 certified professionals in 50 countries has a diverse application — from mitigating the effects of child trafficking in Mexico to exploring the grief in the aftermath of the Sandy Hook school shooting to building cohesion in the workplace — and now as a platform for political discourse.
"I've had so many conversations with friends about our vulnerabilities and stress surrounding this election, whether in person or through social media. Some throw plates at spouses while others mindlessly walk dogs miles to escape the rhetoric of the debates. Our team at Berkshire HorseWorks was trying to find a way to utilize The Model as a way to give people an outlet to navigate the political process in a fun and challenging way. By creating a collective think tank filled with contrasting views in the presence of horses, constituents will be able to share knowledge and resources and hopefully by the end of the day, have a more complete understanding of each other and the issues at hand," stated Hayley Sumner, Founder and Executive Director.
Experiential, solution-oriented and rooted in evidence-based practices, EAGALA sessions are each facilitated by a Licensed Mental Health Professional and qualified Equine Specialist, both certified in The Model.
Space is limited to 60 slots. To reserve your tickets today, please email Hayley(at)BerkshireHorseWorks.com or call (310) 488-9777
Berkshire HorseWorks, Inc. is located on a 27 acre compound in Richmond, MA including the Berkshire Equestrian Center and the Inn at Richmond.
Berkshire HorseWorks™, a nonprofit corporation which utilizes EAGALA Model Equine Assisted Learning and Equine Assisted Psychology to serve at-risk youth, veterans, active duty, their families and corporations. EAL incorporates Equine Assisted Team building by partnering with school districts, local businesses, and international corporations to enhance personal development and reinforce group dynamics in the workplace. Services are offered seven days a week during individual sessions, workshops and wellness retreats. Through the power of horses, Berkshire HorseWorks™ provides the tools to cope, challenge, communicate, heal, lead, empathize and thrive in today's world.
For more information, please visit http://www.BerkshireHorseWorks.com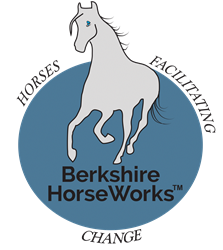 http://www.prweb.com/releases/2016/02/prweb13216368.htm