Theo nguồn tin tiếng Anh trên trang của prweb.com
The title of pianist Caili O'Doherty's sparkling debut album, "Padme," means "lotus flower"–a miracle of nature that not only inspired one of her loveliest and most affecting compositions, but also has played a large role in inspiring her as a person and as an artist. With the release of "Padme," the Portland-born, New York City-based Berklee grad emerges as a startlingly original voice in the music.
Richmond, CA (PRWEB) May 27, 2015
Pianist/composer Caili O'Doherty steps into the top tier of promising young jazz artists with the release on July 7 of her sparkling debut album, "Padme," on her ODO Records imprint. O'Doherty's prowess on acoustic and electric keys, her proclivity for writing airy, flowing melodies, and her clear vision as a leader are much in evidence on the new CD.
The album title means "lotus flower," which "begins growing at the bottom of a muddy pool, emerges and blooms on the surface of the water during daylight, and then closes and sinks below the surface each night, to bloom clean the next day," she says. "To me, it embodies the idea that each person, despite the conditions they start from, can hope to realize their dreams."
For Caili (pronounced "KAY-lee"), jazz is an extension of the lotus flower, imbued with qualities that resonate in people living through difficult circumstances—helping them to recognize and connect with their dreams. Nourished by her experiences in Africa, Central and South America, and Europe, as well as in New York, Washington, DC, and her hometown of Portland, Oregon, O'Doherty's interest in the unifying impact of music across different cultures finds a stirring voice in her beautifully varied compositions.
The recipient of two DownBeat awards and an ASCAP Foundation Young Jazz Composer Award in 2009, Caili has an unusual approach to composing. She writes lyrics to her songs to imbue in them the stories of her journeys and discards the words when the pieces are completed. This gives her melodies a natural rhythm of language.
All of the songs on "Padme" have an engagingly light quality, even when probing dark themes. Her lyrical touch on piano opens the way for fetching arrangements involving violin and trombone, wordless vocals, the guitar of guest artist Mike Bono on the title track, and the earthy drumming by the stellar Adam Cruz on the gorgeously harmonized "Prayer Song."
"Padme" captures a terrific group of young artists with whom O'Doherty enjoys strong ties. They include bassist Zach Brown, violinist Alex Hargreaves, and guitarist Mike Bono, who were all at Berklee with Caili; drummer Cory Cox and tenor saxophonist Ben Flocks, who were at the Stanford Jazz Workshop with her; and alto saxophonist Caroline Davis and trombonist Eric Miller, whom she met after moving to New York.
The 23-year-old O'Doherty started classical piano lessons at five and began playing jazz at 11, studying under celebrated educator Thara Memory. After being selected for the Berklee Summer Jazz Workshop band, led by drummer Terri Lyne Carrington, Caili was awarded a full scholarship to the Boston school. Since she had only completed her sophomore year of high school when she received the offer, she took extra courses and graduated a year early in order to attend Berklee. As a member of Berklee's Global Jazz Institute, directed by Danilo Perez, she got to perform with him and other greats including Joe Lovano, Dave Liebman, and John Patitucci.
In 2010, O'Doherty was one of five pianists invited to participate in the inaugural season of the Mary Lou Williams Women in Jazz Emerging Artists Workshop at the Kennedy Center in Washington, DC. After graduating from Berklee with a degree in jazz piano performance, she moved to New York.
As witness her voluntary teaching and performing, as well as her efforts at WeBop, an early-childhood jazz education program at Jazz at Lincoln Center, and at the Stanford Jazz Workshop, where she has been a member of the faculty since 2012, Caili retains her commitment to music education and outreach even as she devotes herself to performing jazz.
"When you're very clear what you're doing it all for, it gives everything a bigger purpose," she said. "I've seen how music can be a vehicle for social change and healing. I strive to incorporate those ideas in my daily life."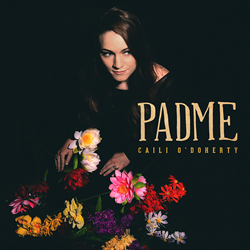 http://www.prweb.com/releases/2015/05/prweb12750676.htm