New features offer a revolutionary mobile hiring experience that will significantly reduce the time it takes to find, apply and get hired for an hourly job from weeks down to minutes
Theo nguồn tin tiếng Anh trên trang của richmondgov.com
RICHMOND, VA. (PRWEB) SEPTEMBER 29, 2015
Snagajob, America's #1 spot for hourly work, announced today two new product features, 1-Click Apply, a fast and easy way to apply to jobs with just one click, and Visuality, a revolutionary, picture-based personality assessment optimized for mobile. Both features have been designed to increase job applications and transparency by significantly reducing the effort and time it takes hourly-paid workers and employers to connect.
With the release of 1-Click Apply, a job seeker's Snagajob Profile now serves as an already completed job application that can be submitted to any active 1-Click Apply job posting, thus eliminating the need to manually complete individual applications on a mobile phone or desktop.
For employers, 1-Click Apply increases job posting views by 50 percent and delivers a mobile application completion rate of 90 percent, compared to the industry standard 2 percent completion rate. The significant increase in application volume will allow Snagajob customers to hire the best candidates and shorten the time it takes to fill open positions.
"In a tightening labor market where turnover is on the rise and the average cost to replace an hourly employee is up 62 percent, employers are craving hiring solutions that can save them time and improve their bottom-line profitability," said Peter Harrison, CEO at Snagajob. "1-Click Apply and our other mobile hiring solutions are bridging the gap between employers and hourly workers to create a seamless hiring solution from which our entire industry will benefit."
Eighty-two percent of hourly employers say that job seekers frequently fail to complete job applications due to lengthy and time consuming personality assessments. Snagajob's new Visuality personality assessment, offers a simple, fast and scientifically-proven picture-based personality assessment that has been optimized for mobile and can be submitted as part of any 1-Click Apply job application.
"Today's job seekers are searching and applying for jobs more than ever on their phones and traditional assessments that are not mobile friendly can take 30-45 minutes to complete, creating a major point of friction in the application process and leading to significant drop-off," said Harrison. "Our Visuality assessment can be completed in under three minutes, and having taken the assessment myself, I can say it's extremely accurate and really fun to complete."
With Visuality, employers get a better understanding of an applicant's dominant personality traits through its scientifically-proven assessment and receives a full description of how the applicant is likely to act in a variety of situations, without the negative impact of application drop-off associated with traditional lengthy assessment tools. Visuality is 90 percent faster than traditional assessments and proven to have a higher reliability score than Myers Briggs®.
About Snagajob
Snagajob, America's #1 spot for hourly work, is the only company solely committed to providing recruitment and hiring solutions to the hourly industry. With over 60 million registered job seekers and a leading hourly-focused talent management system, Snagajob has been serving hourly workers and those who employ them since 2000. With offices in Richmond, VA, and the Washington, D.C., metro, Snagajob has been named to Fortune Magazine's Great Place to Work® list for each of the past seven years. To find out more, visit snagajob.com or snagajob.com/employer-solutions.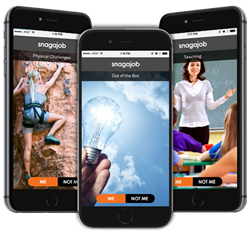 http://www.prweb.com/releases/2015/09/prweb12989683.htm