Theo nguồn tin tiếng Anh trên trang mạng của prweb.com
Retirement Communities Specializing in Programs for Alzheimer's and Memory Care, Helpful Articles on Aging, and More Resources Available Online and in Seniors Guide Magazine
Richmond, VA (PRWEB) June 18, 2014
Top website for retirement living, http://www.SeniorsGuideOnline.com, has expanded its resources for assisted living by providing helpful articles and local resources for those living with Alzheimer's Disease, Dementia, and Memory Loss.
According to facts and figures from the Alzheimer's Association, more than 5 million Americans are living with Alzheimer's Disease. While there currently is no cure for Alzheimer's and other memory problems that occur with age, resources are available for treatment and assistance.
"Our articles focus on the patient as well as the caregiver," says Katharine Ross, Vice President of Sales and Marketing for Seniors Guide Magazine and SeniorsGuideOnline.com.
"From communities that specialize in Alzheimer's and memory care, to articles that aid in research for a recent diagnosis, we are focused on helping seniors and families find care in their time of need," says Ross.
One recent article, "Activities For Memory Loss," highlights ways to keep the brain healthy. Exercise, healthy living, and eliminating stress are just some of the ways Seniors Guide writer, Terri L. Jones, suggests can stop memory loss.
For those looking for retirement communities in Virginia, North Carolina, Ohio and Indianapolis, SeniorsGuideOnline.com provides information for the top places to live for those with Alzheimer's Disease and Dementia – as well as those in the early stages in need of memory care.
Since 2005, SeniorsGuideOnline.com has helped families find housing, home care, products, services, and resources that assist aging.
Seniors Guide, a Richmond, Virginia-based company, publishes Seniors Guide magazines throughout Cincinnati, Ohio; Dayton, Ohio; Indianapolis, Indiana; Raleigh-Durham, North Carolina; Richmond, Virginia; and Roanoke-Lynchburg, Virginia, and features a correlating website of SeniorsGuideOnline.com. Seniors Guide's mission is to help seniors and their families find the information they need on options available in senior housing, senior care, assisted living, independent senior living, retirement communities, and other retirement living needs. Seniors Guide also has resources at http://www.HomeCareChoice.com for Cincinnati, Ohio; Dayton, Ohio; Raleigh-Durham, North Carolina; and Richmond, Virginia. Ross Publishing, Seniors Guide's parent company, began in 1991 and has been publishing helpful, free publications and websites ever since.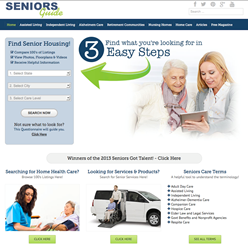 http://www.prweb.com/releases/2014/06/prweb11947147.htm