Theo nguồn tin tiếng Anh trên trang mạng của prweb.com
The Virginia Forum for Excellence is the premier event for performance improvement professionals in Virginia and the District of Columbia to network and learn about the nation's Baldrige Criteria for Performance Excellence.
Richmond, VA (PRWEB) August 20, 2014
The 32nd annual Virginia Forum for Excellence, sponsored by the non-profit United States Senate Productivity and Quality Award for Virginia (Virginia SPQA) is Virginia and District of Columbia's premier event focused on organizational use of the nation's Baldrige Criteria for Performance Excellence.
The Baldrige Criteria is maintained under the auspices of the National Institute of Standards and Technology within the Department of Commerce. Thousands of organizations worldwide use the Baldrige Criteria to guide operations, improve performance and achieve sustainable results.
The conference in Richmond is designed for organizational leaders in Healthcare, Business, Government, Education and Non-Profits who are interested in understanding Baldrige Criteria based maturity concepts for internal use and/or for applying for an Award. The Conference agenda is appropriate for all levels of organizational leaders interested in learning new ways to systematically manage change, address quality, reduce risk and improve results.
The 2014 theme is "21st Century Leadership: A Core Competency for Success." September 15 showcases pre-forum workshops critical to understanding the Baldrige Criteria for Performance Excellence and other topics. September 16 includes 12 workshops devoted to the theme plus keynote addresses from John Timmerman, Gallup's Senior Strategist in Customer Experience and Innovation and immediate past President of the American Society for Quality along with Lauren Sartoris, past President of the Virginia Hospital and Healthcare Association. 2014 Awards are planned to be presented along with remarks by the Honorable Maurice Jones, Virginia Secretary of Commerce and Trade.
"We are excited about this year's Virginia Forum for Excellence program. Whether you are the CEO of a major organization or the key quality, risk, HR, metrics, customer rep, lean or other, the Baldrige Criteria can help you figure it out," said Dr. Jan Garfield, the Virginia SPQA Board Chair.
Information on previous Virginia Forums for Excellence including copies of workshop presentations and photo albums can be found by visiting Virginia SPQA Publications and our Facebook page. Visit 2014 Virginia Forum for Excellence to learn more about this year's program.
Virginia SPQA, founded in 1983, is one of 38 state non-profit, volunteer organizations which administer state based quality award programs using the Baldrige Criteria.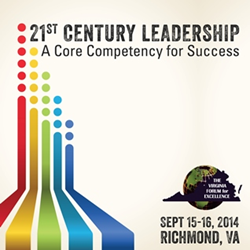 http://www.prweb.com/releases/2014/08/prweb12100029.htm