Theo nguồn tin tiếng Anh trên trang của prweb.com
Racing fans will have the chance to win tickets to the Virginia 529 College Savings 250 race courtesy of Uncle Bob's Self Storage. Uncle Bob's will host an event where fans can register for a ticket drawing and get an autograph from driver Daniel Suárez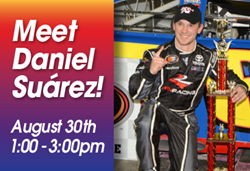 Chesapeake, VA (PRWEB) August 25, 2014
At an event at Uncle Bob's Self Storage, racing fans will have the chance to win tickets to the Nationwide Virginia 529 College Savings 250 race at Richmond International Raceway and meet driver Daniel Suárez. The event will take place at the Uncle Bob's Self Storage facility located at 517 Volvo Parkway in Chesapeake, VA 23320 on Saturday August 30th from 1:00-3:00pm.
Ticket Giveaway and Daniel Suárez Autograph Signing
Uncle Bob's will have 11 pairs of tickets to the Virginia 529 College Savings 520 on hand to give away through a random drawing. Fans can enter the drawing at the event and look for other giveaways from Norfolk radio station 850 WTAR.
Prior the giveaway, fans can meet racer Daniel Suárez and get his autograph. Daniel's visit coincides with the recent announcement that he has signed with Joe Gibbs Racing and will compete full time in the 2015 NASCAR Nationwide Series. Fans can help him celebrate the good news.
Race for the Prize
In addition to the signing and ticket giveaway, attendees can watch fellow racing fans compete in a full-size race simulator. Eight previously qualified finalists will race, and the winner will take home the Grand Prize of:
2 VIP Pit passes to Nationwide at Richmond International Speedway (September 5th at 7:30pm)

2 VIP Pit passes to Sprint Cup Federated Auto Parts (September 6th at 7:30pm)

Overnight Accommodations in Richmond (September 5th & 6th)
"We know how much Norfolk loves racing, and the response to this event has exceeded our expectations," said Mike Nowicki, area manager of Uncle Bob's Virginia facilities. "Having Daniel here to take in the simulator race will ensure it's a memorable day for everyone."
This is a family friendly event, and refreshments will be available. For more information visit Uncle Bob's online at unclebobs.com/race.
About Daniel Suárez

Driver Daniel Suárez has competed in the K&N Pro Series and the NASCAR Toyota Series. It was recently announced that Suárez will compete full-time in the 2015 NASCAR Nationwide Series in the No. 18 Toyota for Joe Gibbs Racing. This will make Suárez the first Mexican driver to race full-time in NASCAR's second tier series.
About Uncle Bob's Self Storage

Uncle Bob's Self Storage® is owned by Sovran Self Storage, Inc., (NYSE:SSS) a real estate investment trust (REIT) that acquires and manages self storage facilities. Uncle Bob's is one of the largest self storage companies in the United States with more than 500 storage locations in 25 states. Uncle Bob's currently has 19 self storage facilities in Virginia.
http://www.prweb.com/releases/2014/08/prweb12118099.htm