Theo nguồn tin tiếng Anh trên trang của prweb.com
Tiffany Austin had sung on three continents before setting music aside to study law, earning her degree at UC Berkeley's Boalt School of Law. But the music bug never went away, and Austin applied her gifts and passion for singing to further musical study, culminating in the release of her exceptional recording debut, "Nothing But Soul."
Richmond, CA (PRWEB) May 15, 2015
One of the fastest rising jazz singers in Northern California, with a tradition-rooted yet thoroughly modern style, Tiffany Austin brings a wealth of experience to her debut CD "Nothing But Soul," scheduled for June 2 release by her Con Alma Music label.
The Los Angeles native, currently based in Berkeley, worked with producer Howard Wiley to adapt and expand on her November 2013 SFJAZZ "Hotplate" concert for which she reimagined compositions by the great American songwriter Hoagy Carmichael. "Nothing But Soul" is made up of six Carmichael tunes—"Baltimore Oriole," "Stardust," "Skylark," "I Get Along Without You Very Well," "Georgia on My Mind," and "Sing Me a Swing Song (And Let Me Dance)"—as well as two non-Carmichael numbers that he recorded as a vocalist: Henry Sullivan and Harry Ruskin's "I May Be Wrong (But I Think You're Wonderful)"; Johnny Cash's "I Walk the Line"; and "Tête-à-Tête," a wordless a cappella duet by Austin and Wiley based on the chord changes of Charlie Parker's "Confirmation." Tiffany was joined for the recording by bassist Ron Belcher, drummer Sly Randolph, pianist Glen Pearson, and producer Howard Wiley on tenor saxophone.
"Hoagy is a treasure trove of classics," says Austin. "When I looked at his catalog, I realized that I'd been hearing, singing, and even piano-plunking away at his tunes for a great chunk of my life—'Heart and Soul,' for instance! I wanted to share that wonder of finding treasures in plain view with other folks, while adding some other musical flavors to the recipe. It's also fascinating to me that Hoagy achieved his law degree," adds Austin, who earned her Juris Doctorate at the University of California Berkeley's Boalt School of Law in 2012, "and still decided to pursue a career in music. Whatever your calling is, there's something in your bones that tells you there is nothing that will make you happier in life. And it takes a lot of courage to follow it."
Born in Los Angeles, Tiffany Austin studied classical voice while attending Los Angeles County High School for the Arts. During her junior year at Cal State Northridge, from which she would graduate with a B.A. in creative writing in 2003, she went to England on an exchange program and began singing in London clubs. After a brief stint back in Southern California, she moved to Tokyo in early 2004 and spent the next five and a half years singing a variety of music, including some pop, jazz, and gospel music, six nights a week.
"As I worked in those styles I could hear a different quality coming out in my voice, and I wanted to explore that further," says Austin, who also received lyric writing commissions and recorded for television, film, and album projects during this period.
"I also fell in love with Japan, and when I left there it was with tears in my eyes," she adds. "I was struck by how the artisans I met would not settle for anything but the best of themselves and their craft, and would work with such patient diligence. That work ethic resonated with me, and I find myself summoning up memories of Japan when I brace myself for big challenges."
In 2009, Austin returned to the United States to attend U.C. Berkeley Law School, with an emphasis in entertainment law and copyright. After graduation, she found herself at a crossroad. "I could have gone into a law firm, which can be rewarding, particularly if you're helping an underserved community, but my calling has always been to do music," Austin says. "I don't just want to make decisions based on money. I want to feel connected to my art and my community. I want to really be in touch with my soul.
"Although cliché, it's true," she continues, "that law school teaches you how to think, how to work efficiently, how to teach yourself, and how to be tenacious. Since graduating, I've started my own music company (Con Alma Music), put together my album, deepened the study of my crafts (vocalist, lyricist, songwriter), and began independently studying harmony. I feel like every bit of my education and experience has come together, in a marvelously unlikely way, to make me an artist."
In Northern California Tiffany has appeared at the SFJAZZ Center, Yoshi's in both Oakland and San Francisco, the Yerba Buena Gardens Festival in San Francisco, and the Healdsburg Jazz Festival, and in January 2014 traveled to New York to perform with choreographer Nicole Klaymoon's Embodiment Project at Jazz at Lincoln Center. Besides working with innovative local bandleaders Marcus Shelby and Howard Wiley, Austin has sung with the bands Orgone and MoonCandy, and has recorded with, among others, Orgone, The Monophonics, The Droptones, and on UnderCover Presents Sly and the Family Stone's Stand! tribute project.
The CD release concert for "Nothing But Soul" will take place at the SFJAZZ Center's Joe Henderson Lab on Friday 6/12. Shows are at 7:00pm and 8:30pm, and tickets are $25. Other upcoming shows are scheduled for 7/17 at the Red Poppy Art House in San Francisco, 8/29 at the Sound Room, Oakland.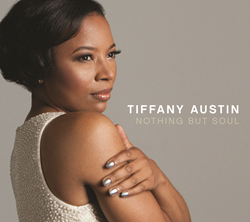 http://www.prweb.com/releases/2015/05/prweb12727928.htm