Theo nguồn tin trên trang mạng của prweb.com
Guide for finding apartments available at Kroger, WaWa, Food Lion, University Housing Services, and more.
Richmond, Virginia (PRWEB) June 08, 2015
Continuing with the success of the premier publication in March, Apartment Navigator returns this month with expansive options for housing and rentals in the Richmond area.
Available in 800+ locations in Central Virginia, including West End, Southside, Northside, East End, and Downtown Richmond, Apartment Navigator is a free resource magazine featuring some of the best apartments in Richmond.
"Many apartments in our magazine have won RAMMY awards from the Virginia Apartment Management Association", says Katharine Ross, Vice President of Ross Publishing.
With its new issue, Apartment Navigator continues to assist apartment seekers in finding their dream home with a free magazine and online resources.
"We showcase a diverse selection of featured apartments for rent in the Richmond area", says Ross.
"Options in the area range from affordable apartments, with some income restrictions, to luxury living", says Ross.
The Richmond area apartment guide, Apartment Navigator, will also be available in the racks at Food Lion beginning in June.
With further expanded distribution reaching more renters, Apartment Navigator's next updated guide will be available in September.
For those not in the Richmond area or unable to pick up a magazine, Apartment Navigator is also available online at http://www.apartmentnav.com.
To be mailed a copy of Richmond's Apartment Navigator, visit http://www.apartmentnav.com/free-magazine or call (804) 674-5004.
Ross Publishing, a Richmond, Va. -based company publishes Apartment Navigator, Seniors Guide, and BOOMER. Their Seniors Guide magazines publish throughout Richmond, Virginia; Roanoke-Lynchburg, Virginia; Raleigh-Durham, North Carolina; Cincinnati, Ohio; Columbus, Ohio; Dayton, Ohio; and Indianapolis, Indiana. BOOMER magazine publishes exclusively in the Central Virginia area. Founded in 1991, Ross Publishing has been publishing helpful, free publications and websites ever since.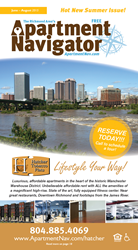 http://www.prweb.com/releases/2015/06/prweb12763176.htm