Online bankruptcy auction ends July 30 and includes income-producing commercial properties, rental assets and multi-parcel development opportunities in areas south and east of Richmond
Theo nguồn tin tiếng Anh trên trang mạng của prweb.com
RICHMOND, Va. (PRWEB) July 08, 2015
Richmond-based SVN/Motleys—a founding member of Sperry Van Ness® Auction Services, a national provider of date-specific sales and special asset solutions—is coordinating the accelerated sale of 150+/- revenue-generating and development properties in areas south and east of Richmond, Virginia. These include income-producing commercial properties, rental assets, multi-parcel development opportunities, and commercial and residential zoned building lots in southern Chesterfield, Colonial Heights, Chester, Petersburg, Dinwiddie, Prince George, and Waverly.
Individual properties will be offered in the online bankruptcy auction starting July 15 with all sales ending by July 30. The process features SVN's leading edge, secure and user-friendly online bidding platform, however, two onsite bidding centers will be available on select days. For more details on the auction and properties, visit http://www.SVNBid2Win.com.
The U.S. Bankruptcy Court recently ordered the sale of these properties owned by Roadrunner Enterprises, Inc. of Chesterfield County, VA. SVN/Motleys, a full service asset disposition company that provides an entire spectrum of expertise and comprehensive solutions, is representing the debtor.
"We're anticipating a very active and dynamic sales process as interest is already growing for these properties, which represent a range of assets and opportunities," said Tim Dudley, CAI, AARE, Senior Advisor with SVN/Motleys. "From turnkey income-producing rental to development opportunities, there is a wide spectrum of properties available for experienced investors, developers and individuals interested in entering the market."
Among the properties listed for sale are several high visibility, high traffic parcels on US 1 Jefferson Davis Highway, a turnkey convenience store, a 60-lot subdivision, a 49-unit self-storage facility, warehouses, rental homes, multi-family buildings, store fronts and commercial and residential lots throughout the area.
"With their prime location, the parcels on US 1 will generate a lot of interest and activity," said Chip Jones, Senior Advisor with SVN/Motleys, who is assisting to coordinate the auction. "It's such a varied listing of assets, across such a broad area, that there is a real wealth of opportunities within this portfolio of properties. With our experience handling accelerated sales of all sizes and asset classes, the SVN/Motleys team will be prepared to handle the robust bidding activity and provide insight and guidance when appropriate."
Most recently, SVN/Motleys successfully coordinated the bankruptcy sale of the high profile River City Renaissance Properties in Richmond, which sold for $37.35MM.
###
About Sperry Van Ness Auction Services

SVN Auction Services is a provider of date-specific sales and special asset solutions. It encompasses an elite group of local and regional auction advisors throughout the United States who specialize in areas such as foreclosures, tax sales, multi-properties, receiverships and bankruptcies. SVN Auction Services offers the industry's most comprehensive spectrum of auction solutions—from rapid asset resolution and 30-day countdown asset sales to wide area and high impact/high promotion events. As part of one of the most recognized and reputable commercial real estate firms in the industry, SVN Auction Services is supported by SVN International's more than 800 commercial real estate advisors throughout the nation. This relationship provides outstanding opportunities for SVN Auction Services to serve clients needing to move assets in accelerated timeframes and creates significant value for buyers and sellers. For more information, visit http://www.svnauctions.com.
Contact

Tim Dudley, CAI, AARE

SVN/Motleys

804-822-3131

tdudley(at)svn(dot)com
Ken Zeszutko

Zeszutko Corp.-PR on behalf of SVN Auction Services

321-213-1818

zeszutko(at)zcorp-pr(dot)com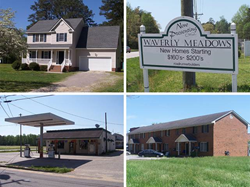 http://www.prweb.com/releases/2015/07/prweb12837369.htm