Starting September 13, communities across the country will celebrate seven days of National Assisted Living Week. Here's all you need to know.
Theo nguồn tin tiếng Anh trên trang của richmondgov.com
RICHMOND, VA (PRWEB) SEPTEMBER 13, 2015
When it comes to assisted living, Seniors Guide Magazine has a firm position as one of the leading resources for information. Leading into next week, the people behind the magazine would like to remind everyone in the industry to take some time to observe National Assisted Living Week.
According to the official website of the National Center for Assisted Living, National Assisted Living Week was established in 1995 to provide "a unique opportunity for residents, families, staff, volunteers, and the surrounding community to come together to share with our residents a variety of events and activities that show them how much we care for them."
Seniors Guide Magazine provides extensive assisted living content, both online and in their regional print publications. From profiles of communities, to helpful definitions, to informative articles about making the move, Seniors Guide has delved deep into the topic of assisted living. And they're showing no signs of slowing down!
Jeff Hartman, in his tenure as Marketing Strategist for Seniors Guide Magazine, has become an expert in the field of assisted living. "National Assisted Living Week is a great opportunity to remind ourselves and each other of all the amazing things that these caregivers and communities do," Hartman says. "And, of course, it's also a time for the industry to truly demonstrate an appreciation for and dedication to assisted living residents everywhere."
To celebrate the week, the National Center for Assisted Living recommends that communities try activities such as puzzles and games; music and art; fitness classes; dining events; and charitable drives. And to help support the cause, there is National Assisted Living Week merchandise for sale at http://www.ahcapublications.org/products.asp?dept=29.
Seniors Guide, a Richmond, Va. -based company publishes Seniors Guide magazines throughout Cincinnati, Ohio; Columbus, Ohio; Dayton, Ohio; Indianapolis, Indiana; Raleigh-Durham, North Carolina; Richmond, Virginia; and Roanoke-Lynchburg, Virginia and features a correlating website of SeniorsGuideOnline.com. Seniors Guide's mission is to help seniors and their families find the information they need on options available in senior housing, senior care, assisted living, independent senior living, retirement communities and other retirement living needs. Seniors Guide also has resources at http://www.HomeCareChoice.com for Cincinnati, Ohio; Columbus, Ohio; Dayton, Ohio; Raleigh-Durham, North Carolina; and Richmond, VA. Ross
Publishing, Seniors Guide's parent company, began in 1991 and has been publishing helpful, free publications and websites ever since.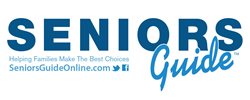 http://www.prweb.com/releases/2015/09/prweb12954316.htm