Nicolas Bearde has drawn on his love for both R&B and jazz on his previous four CDs and in his past affiliations with innovative vocal groups Voicestra and SoVoSo. On his new CD, "Invitation," Bearde focuses on jazz repertoire in a trio setting for the first time and reveals himself to be a master singer in the tradition of such deep-voiced greats as Billy Eckstine, Johnny Hartman, and Bill Henderson.
Theo nguồn tin tiếng Anh trên trang mạng của prnewswire.com
RICHMOND, CA (PRWEB) DECEMBER 15, 2015
Nicolas Bearde is a San Francisco Bay Area treasure. As a charter member of Bobby McFerrin's Voicestra ensemble as well as the innovative vocal sextet SoVoSó, he's long been internationally recognized as a versatile and fearless vocal improviser, charismatic performer, and distinctive jazz and soul stylist.
While Bearde has drawn on his love for both R&B and jazz on his previous four CDs," Invitation," the singer's fifth release on his own Right Groove Records label, is his first entirely straight-ahead set of songs. Produced largely by renowned pianist/arranger Nat Adderley Jr., "Invitation" will be released January 29.
"Nat has a way of starting you in a different direction," says Bearde of Adderley, who spent nearly 20 years as music director for Luther Vandross and grew up in a deeply musical family including his cornetist father Nat Sr. and his alto saxophonist uncle Cannonball. "He has a way of voicing chords that is so very musical. You don't have to hear the melody to hear the melody within the chords. We found that during rehearsal of this new material. I thought, this is probably the most beautiful way I've ever heard these songs."
The relaxed phrasing and depth of feeling that Bearde brings to such standards as "Nature Boy," "Lush Life," and "Save Your Love for Me" and to a rarely heard vocal version of Herbie Hancock's "Maiden Voyage" place him firmly in the tradition of such deep-voiced greats as Billy Eckstine, Al Hibbler, Arthur Prysock, Johnny Hartman, Bill Henderson, Lou Rawls, and Jon Lucien.
Seven of the tracks were recorded in East Orange, New Jersey, or Brooklyn, New York, with Adderley on piano, Belden Bullock or Kenny Davis on bass, and Vincent Ector or Rocky Bryant on drums, and, on three tracks, alto saxophonist Vincent Herring, considered by many to be Cannonball Adderley's foremost stylistic disciple. "I Want to Talk About You" was produced in Oakland by the late Bud Spangler with pianist John R. Burr, bassist John Wiitala, drummer Akira Tana, and tenor saxophonist Anton Schwartz. "Maiden Voyage" was produced in San Francisco by Bearde and Peter Horvath, who played piano in the company of bassist Gary Brown, drummer Leon Joyce Jr., and percussionist Peter Michael Escovedo.
Bearde was introduced to Adderley nearly three years ago while appearing at Trumpets in Montclair, New Jersey. The club's owner recommended that Bearde call Adderley, who lived in the neighborhood, about the possibility of their working together at his next Trumpets engagement.
"Nat said 'Send me the music and info, let's hear what you do,'" says Bearde. "So I sent him three albums' worth of material, and he called back and said, 'Where have you been? Why don't people know who you are? Of course I'll work with you.'"
Nashville native Nicolas Bearde, who's been based in the San Francisco Bay Area since the 1970s, has worked extensively as an actor for stage, screen, and television and as a voice-over artist in addition to his vocal pursuits. By the mid-1980s, he'd hooked up with Bobby McFerrin's Voicestra, and when McFerrin decided to take a break from the group in the mid-'90s, Bearde and other members branched off into a smaller a cappella unit called SoVoSó, which included Molly Holm, Linda Tillery, Rhiannon, Joey Blake, David Worm, and Edgardo Cambon. "We followed in the improvisational tradition of Voicestra, but added more gospel, Latin, and R&B elements," he says.
Bearde maintains a busy touring schedule. He has appeared at the Russian River Jazz Festival, San Jose Festival, Salt Lake City Jazz Festival, Usadba Jazz Festival in Russia, and Minsk Jazz Festival in Belarus, as well as such clubs as Yoshi's in both Oakland and San Francisco, B.B. King's and Café Cordial in Los Angeles, and the abovementioned Trumpets.
Besides being a master singer, Bearde has distinguished himself as an actor. Since taking part in Juke Box, a 1986 radio play starring Danny Glover, he has appeared in such films as True Crime, Final Analysis, and Pacific Heights; on television in Monk, Henry Lee, Nash Bridges, and Baby Snatcher; on the stage in Flying West, Two Trains Running, Full Moon, Twelfth Night, American Song, and Master Harold…and the Boys; and in commercials for the California Lottery, Chrysler, Orchard Supply Hardware, and Verizon.
Bearde has released four albums through his Right Groove imprint: "Crossing the Line" (1998), "All About Love" (2004), "Live at Yoshi's: A Salute to Lou [Rawls]" (2008), and "Visions" (2013). Connoisseurs of fine jazz singing will be thankful to hear him in the uncompromising context of "Invitation."
Nicolas Bearde will be performing two CD release shows in the Bay Area: Saturday 3/5 at Café Stritch in San Jose and Saturday 3/26 at the Sound Room in Oakland.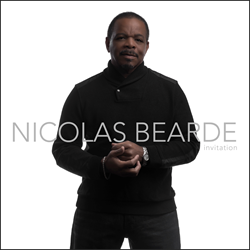 http://www.prweb.com/releases/2015/12/prweb13130843.htm