The Richmond based company is offering product discounts and providing education in their monthly webinar series to help organizations increase contact center efficiency.
Theo nguồn tin tiếng Anh trên trang mạng của prnewswire.com
RICHMOND, VA (PRWEB) JANUARY 21, 2016
AMC Technology, a leading integrator of CRM and contact center applications, has announced it will be offering a 20 percent discount on their Contact Canvas Adapter for enterprises with 500 or more seats that integrate to SAP, Siebel, Salesforce or Microsoft. The promotion will run from now until March 31, 2016. Additionally, AMC is kicking off their monthly webinars beginning January 28th with the topic of "Large But Nimble" to provide assistance to those that are seeking opportunities to improve contact center efficiency.
Contact Canvas is able to reduce average call duration with features such as screen pop, which saves the agent time by presenting the information of the caller without the agent having to search manually, and automatic reporting, which helps reduce agent errors and identifies areas for improvement. According to Colleen Oliverio, Director of Guest Sales at Carnival Cruise Lines, "We struggled to capture critical attempt, contact and conversion data making it difficult to maximize sales opportunities. This challenge made it impossible to test strategies for improvement. We had no real time call statistics that were actionable. This enhancement [Contact Canvas] has been a critical component to understanding and increasing lead conversion. Additionally, sales managers have more real-time and accurate call data, offering opportunities to impact today's performance. It has been an effective tool to optimize agent and lead performance."
AMC's Contact Canvas delivers a robust offering of integrations between products like SAP, Siebel, Salesforce, Microsoft Dynamics and Cisco, Avaya and Aspect that can be mixed and matched. Different from point to point solutions, Contact Canvas customers can take advantage of all of the integrations offered without purchasing additional licenses or forklift upgrades. Contact Canvas is an excellent value for companies that have are looking for a solution that can greatly influence the way their organization services their customers.
About AMC Technology
AMC Technology, LLC, is a global industry leader in contact center and CRM integration with 20 years of experience. AMC powers contact centers for customers around the globe through certified products and unparalleled expertise. AMC Contact Canvas product suite allows customers to integrate business applications and communications across the enterprise, from call center agents to knowledge workers and mobile staff. For more information, visit http://www.amctechnology.com or contact sales(at)amctechnology(dot)com or +1 (804) 419-8600.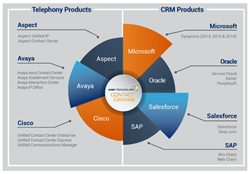 http://www.prweb.com/releases/2016/01/prweb13172451.htm