The Science Museum of Virginia hosts the Summer Science Family Fun event to celebrate Science, Technology, Engineering and Monsters on Saturday, June 21, from 9:30 am – 5 pm.
Theo nguồn tin tiếng Anh trên trang mạng của prweb.com
Richmond, VA (PRWEB) June 13, 2014
Join us at Summer Science Family Fun to celebrate Science, Technology, Engineering and Monsters on Saturday, June 21!
Spot the legendary Bigfoot® #1– yes, the original Monster Truck – and grab a photo with this ferocious beast. What other monsters will be lurking around the Museum? Guests can keep their eyes peeled for hair-raising surprises around every corner.
Take an adventure into the gripping exhibition, How To Make A Monster, to expose the art and technology of animatronics behind creatures – including the abominable snowman, a giant crocodile, werewolves and other iconic monsters. Guests become animatronic puppeteers, lighting technicians and creature designers as they watch the creations come to life right in front of their eyes.
"Monsters have been a part of human culture since the ancient mythologies. We are very proud to continue this tradition at the Science Museum of Virginia by showcasing monsters in film as well as featuring a classic Monster Truck, named for a mythological monster," says Rich Conti, Chief Wonder Officer.
Find out what makes a monster tick by exposing its mechanical makeup and dissecting a heart, brain or eye with our mad scientists. Guests channel their inner Dr. Frankenstein as they get hands-on in our lab and create their own clay monsters. Enjoy monster-sized fun with special activities all day long!
Summer Science Family Fun is included in exhibit admission. Tickets are $11 with $1 discounts for ages 4-12 and 60+. Visit http://www.smv.org or call 804.864.1400 for details.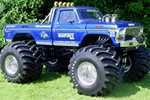 http://www.prweb.com/releases/2014/06/prweb11941532.htm