Address Our Mess is here to help deal with clutter cleaning in the state of Virginia, even during the cold months of winter and early spring. With over 15% of the population suffering from severe clutter, they can help them return their home to livable condition.
Theo nguồn tin tiếng Anh trên trang blog của
Richmond, VA (PRWEB) January 15, 2015
When looking to help with clutter cleanup in Virginia, people often need help from others in order to do the work effectively. Address Our Mess is here to help with dealing with overwhelming clutter cleanup in Virginia. This clutter can often come in all different types whether it is paper, plastic, collectible items, or broken items, these groups often can overtake the home and take up a considerable amount of area. There are a number of clutter scenarios that can occur in the state of Virginia.
One of the most common forms of clutter is clothing clutter. Many people encounter this problem in their home, because they lack the time to do their laundry properly. One of the gravest concerns of this form of clutter is that the clothing takes up so much room. In many cases the clutter has gotten to a point where there is clothing on all the surfaces of the home. These pieces of clothing are often dirty, because there has been little in the way of time to clean the clothing properly. When removing these items it might be necessary to hire a professional clutter cleanup company. Another form of clutter that can develop is the keeping of obsolete or broken electrical items.
The keep of broken or obsolete items specifically electric items is a more common form of cluttering. Sometimes these items the person might few this devices as still having potential use in them, but in reality there isn't any. Many of the items such as VHS players, tape players, etc. have often displaced by new technology, such as Blu-ray, or MP3s. There seems to be a conscious on effort of many of these people to still want to retain the old technology, almost in a sense of remembrance. Another cause of items being gathered is clutter in relation to stress.
The proximity of Virginia to Washington DC is relatively close. As a result many of these people who work in the city live in the state of Virginia. With the amount of work that these individuals take on in their daily jobs the amount of stress can start to reflect. In many cases the stressfulness can result in clutter developing in the home. As this starts to increase it can often feel overwhelming to a person and at that point it would be advisable to hire a professional clutter cleanup firm.
A professional clutter cleanup firm that services Virginia is one located in Baltimore, Maryland named Address Our Mess. This can company handle any type of clutter situation with their caring personnel and experienced technicians and case managers can handle many different severe clutter situations. When you need help and professional service in dealing with clutter clean up.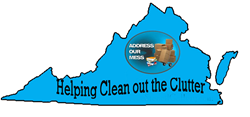 http://www.prweb.com/releases/2015/01/prweb12446070.htm