Accomplishment of being trusted resource finding the best retirement communities, home care services, and more in Seniors Guide Magazine and on SeniorsGuideOnline.com reflected in new adage.
Theo nguồn tin tiếng Anh trên trang mạng của prweb.com
Richmond, Virginia (PRWEB) May 20, 2015
Seniors Guide, while still the "comprehensive guide to all things senior", is now highlighting its long time focus of "helping families make the best choices" with their new tag line.
"Not only does Seniors Guide Magazine do a great job of reaching older adults looking for nursing homes and more, it also serves as a resource for the caregiver – who is often a family member", says Katharine Ross, Vice President of Sales for Seniors Guide.
"More caregivers are researching health and retirement services for their loved ones through print and online", says Ross.
Seniors Guide's new tagline also reflects the collaborative nature of retirement life decisions. The experts on retirement living are seeing decisions for home care, companion services, and choosing a retirement community to live in, being discussed with input from the family.
"We see many inquiries from adult children and caregivers asking about local resources and stating that it is for a loved one", says Ross.
Additional resources for families provided by Seniors Guide include informative articles on aging, sponsorships of local community events, and senior industry partnerships.
"We are very involved with the local communities to help provide solutions to families", says Ross.
Seniors Guide also works closely with the Alzheimer's Association in North Carolina, Virginia, Ohio, and Indiana.
The new tagline, "Helping Families Make The Best Decisions" will premiere with the June issue of the Indianapolis Seniors Guide Magazine. For more information and resources for seniors and their families, visit http://www.SeniorsGuideOnline.com.
Seniors Guide, a Richmond, Va. -based company publishes Seniors Guide magazines throughout Cincinnati, Ohio; Columbus, Ohio; Dayton, Ohio; Indianapolis, Indiana; Raleigh-Durham, North Carolina; Richmond, Virginia; and Roanoke-Lynchburg, Virginia and features a correlating website of SeniorsGuideOnline.com. Seniors Guide's mission is to help seniors and their families find the information they need on options available in senior housing, senior care, assisted living, independent senior living, retirement communities and other retirement living needs. Seniors Guide also has resources at http://www.HomeCareChoice.com for Cincinnati, Ohio; Columbus, Ohio; Dayton, Ohio; Raleigh-Durham, North Carolina; and Richmond, VA. Ross Publishing, Seniors Guide's parent company, began in 1991 and has been publishing helpful, free publications and websites ever since.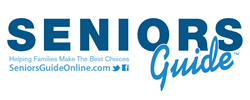 http://www.prweb.com/releases/2015/05/prweb12730683.htm