The frozen yogurt chain to launch national campaign on Labor Day
Theo nguồn tin tiếng Anh trên trang mạng của prweb.com
RICHMOND, VA (PRWEB) SEPTEMBER 03, 2015
sweetFrog Enterprises is pleased to join forces with Our Military Kids, Inc., a 501(c)(3) nonprofit organization created to provide support and recognition to military children.
From Labor Day (9/7/2015) until Veterans Day 11/11/2015) sweetFrog will offer customers the opportunity to donate $5 to Our Military Kids in exchange for six monthly BOGO coupons good on visits between October 2015 and March 2016. When customers text KIDS to 52067 they will be prompted to make a $5 donation. Once a donation is complete, customers will receive one BOGO coupon per month directly to their mobile device over the following six months.
"We are so grateful for sweetFrog's support, which will go directly toward helping the children of true American heroes," said Linda Davidson, co-founder and Executive Director of Our Military Kids, Inc. "We've learned over the years that one of the best ways to serve our veterans is by helping to give their kids as normal a life as possible. Sports, fine arts, camps and academic tutoring programs help nurture and sustain children during a deployment or a parent's lengthy recovery and/or rehabilitation."
Local sweetFrog stores will also play a part in the promotion by hosting appreciation parties for military families at locations nationwide.
"We are honored to be partnering with Our Military Kids and the opportunity this gives sweetFrog to help the families of American heroes," said Matt Smith, chief marketing officer for sweetFrog. "We believe in the well-being of families and this national partnership also gets our network of great shops involved also."
About sweetFrog
sweetFrog (http://www.sweetfrogyogurt.com) is the fastest growing premium, all natural, self-serve frozen yogurt restaurant company in the country. Sweet Frog currently has 358 stores including company-owned, franchise and independently licensed locations either open or under contract in 27 states in the U.S., Dominican Republic, United Kingdom and Egypt. The company was founded in 2009 and is based in Richmond, Virginia. Sweet Frog prides itself on providing a family-friendly environment where customers can enjoy soft-serve frozen yogurt, gelato and sorbets with premium toppings of their choice. The company was founded on Christian principles and seeks to bring happiness and a positive attitude into the lives of the communities it calls home.
About Our Military Kids
Our Military Kids, Inc. is a 501(c)(3) nonprofit organization created to provide support and recognition to military children. This may include children, ages 3 years through the 12th grade, of deployed National Guard and Reserve service members, along with children of Wounded and Fallen Warriors from all branches of service. The grants to children pay for fees associated with athletic, fine arts and tutoring programs. Our Military Kids' grants keep military children engaged in activities of their choosing, helping to relieve the stress of separation from a parent by providing a positive distraction, minimizing emotional destabilization, building self esteem, and enabling academic achievement.
###
Contact:
Matt Smith, Chief Marketing Officer
matt.smith(at)sweetfrog(dot)net
(804) 835-6796
10800 Midlothian Turnpike, Suite 300
Richmond, VA 23235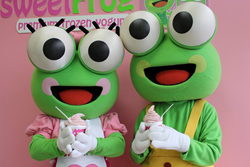 http://www.prweb.com/releases/2015/09/prweb12939496.htm