One of the most deeply soulful soprano saxophone stylists in jazz, Bill Kirchner was initially inspired by seeing John Coltrane and Duke Ellington in person when he was an 11-year-old saxophone student. He's gone on to become an influential saxophonist himself, as well as a composer, arranger, and educator of note, and his new live album "An Evening of Indigos" is a highlight of his brilliant career.
Theo nguồn tin tiếng Anh trên trang mạng của prweb.com
RICHMOND, CA (PRWEB) SEPTEMBER 08, 2015
Renowned as a renaissance man of jazz—as an influential bandleader, sideman (on all of the saxophones, clarinets, and flutes), composer, arranger, record and radio producer, educator, writer, and editor—Bill Kirchner is also one of jazz's most deeply soulful soprano saxophone stylists. He plays soprano exclusively on his forthcoming album "An Evening of Indigos," a 2-CD package featuring Kirchner in the intimate company of pianist Carlton Holmes, a veteran of the leader's now-inactive nonet; Nashville-based bassist and vocalist Jim Ferguson; and longtime colleague Holli Ross on vocals. Jazzheads Records will release the set, Kirchner's fourth for the New York label, on October 16.
Recorded on October 7, 2014 at a concert in the 200-capacity performance space at New York's New School for Jazz and Contemporary Music, where Kirchner has taught for the past 25 years, "An Evening of Indigos" presents the quartet in a set of seven Kirchner compositions and six standards. "The mood at this remarkable concert was indeed indigo but far from monochromatic," remarks Dan Morgenstern in the package notes. Kirchner also includes his own comments made at the New School that night in the program notes:
"Most concerts are, in a sense, variety shows. The standard idea in programming them is to come up with a multiplicity of tempos and moods, usually building to a climax. In this case, we're aiming to explore one mood, though in different facets. And to sustain that mood, we'll refrain from talking to the audience between songs. . . . Just let the music and emotions envelop you."
From the album opener "Theme for Gregory," Kirchner's "simple jazz waltz with some nice chord changes," through the closing Rodgers & Hart standard "He Was Too Good to Me," the musicians explore many hues of indigo. Several of Kirchner's collaborations with lyricist Loonis McGlohon are included, among them "Gentle Voice in the Night" and "I Almost Said Goodbye," featuring Ross, and "Foolish Little Girl," with Ferguson on vocals. The vocalists take turns on a medley of Antonio Carlos Jobim's "Someone to Light Up My Life" and "This Happy Madness," both with English lyrics by Kirchner's late friend Gene Lees. Another vocal medley pairs Bacharach-David's "Close to You" (previously recorded as an instrumental on Kirchner's 1999 nonet album "Trance Dance") and Buddy Johnson's blues ballad "Save Your Love for Me."
Also performed are Kirchner's (both words and music) "The Inaudible Language of the Heart," sung by Ross; his solo piano feature for Holmes, "Since You Asked"; and his musical setting of a poem by William Butler Yeats, "When You Are Old," sung by Ferguson. The bassist/vocalist and Kirchner duet on Bob Hilliard and David Mann's "In the Wee Small Hours of the Morning."
Kirchner's concentration on the soprano, his favorite instrument, is not entirely by choice. In 1993 he suffered a major setback when he was diagnosed with a non-malignant but life-threatening tumor in his spinal cord. The tumor was removed after two major surgeries, but he was left with no feeling and only two working fingers in his right hand, a pronounced limp, and chronic pain. Forced to put aside his other reed and woodwind instruments, he gradually taught himself to play a soprano saxophone that had been redesigned and rebuilt to accommodate his disability.
"There's an economy to it that's by sheer necessity," he says of his current soprano style. "It's said that we're all stylistically a product of our limitations. I'm as good an example of that as anybody I know.
"It was kind of serendipitous that the only instrument that I can still play is the one I liked playing the most. I had to relearn ways of playing it, but not as much as you might think. I guess I just learned to play with fewer notes. I don't think that my conception of playing changed all that much. It's just sparer now, that's all."
Born in Youngstown, Ohio, in 1953, Bill Kirchner started playing clarinet at age 7 and took up saxophone in junior high and flute in high school. While majoring in English at Manhattan College in New York in the early '70s, he studied music privately with saxophonist Lee Konitz and pianist Harold Danko. After college, Kirchner spent five years in Washington, DC, where he played and studied with arranger Mike Crotty and edited transcripts for the Smithsonian Institution's NEA jazz oral-history project.
Kirchner returned to New York City in 1980 and has remained there ever since. His nonet was active from 1980 to 2001 and recorded five albums for the Sea Breeze, A-Records, and Jazzheads labels. His sideman credits include work with the Mel Lewis Jazz Orchestra, Anita O'Day, Mario Bauzá, and Tito Puente. His arrangements have been recorded by Konitz, Dizzy Gillespie, Patti Austin, and the Smithsonian Jazz Repertory Ensemble. He has annotated over 50 projects for Blue Note, Columbia/Legacy, Mosaic, and other labels and was awarded a Grammy for "Best Album Notes" for "Miles Davis and Gil Evans: The Complete Columbia Studio Recordings" in 1996. He edited the books "A Miles Davis Reader" in 1997 and "The Oxford Companion to Jazz" in 2000. He produced and wrote four NPR "Jazz Profiles" and hosted 131 "Jazz from the Archives" radio shows for WBGO-FM. And he presently teaches jazz courses at the New School for Jazz and Contemporary Music, the Manhattan School of Music, and New Jersey City University.
"This night is one of the highlights of my career," says Kirchner of the New School concert. "To have one's music so sensitively and beautifully performed by Holli, Carlton, and Jim is a composer-arranger's dream. And the audience was with us all the way."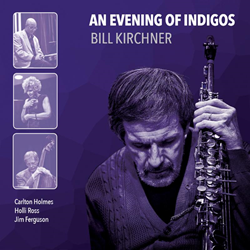 http://www.prweb.com/releases/2015/09/prweb12948156.htm