On Saturday, September 12th, 2015, Team Fastrax™ will be performing a patriotic American Flag Skydive as part of the opening ceremony of the Federated Auto Parts 400 NASCAR Sprint Cup. The race is being held at the Richmond International Raceway in Richmond, VA.
Theo nguồn tin tiếng Anh trên trang của richmondgov.com
RICHMOND, VA (PRWEB) SEPTEMBER 11, 2015
The Federated Auto Parts 400 is a NASCAR Sprint Cup Series stock car race held at the Richmond International Raceway in Richmond, Virginia. Defending race winner Brad Keselowski will battle it out with Tony Stewart, Jeff Gordon, Jimmie Johnson, Kevin Harvick, Denny Hamlin and all of the stars of the NASCAR Sprint Cup Series around the 3/4-mile track for the checkered flag. Team Fastrax™ will be performing an amazing patriotic aerial display just prior to the race, which will include their amazing 2,000 sq. ft. American Flag.
John Hart, owner of Start Skydiving, and member of Team Fastrax™, said "We are honored to be performing our patriotic American Flag skydive at such a thrilling event. The energy and excitement of NASCAR races are like no other."
According to the Richmond International Raceway site, all tickets for children 12 and younger are $25 off the adult price in each section. Additionally, they offer tickets for children in the Family Section presented by Virginia529 College Savings Plan. Alcohol is prohibited in this section. Tickets for 12 and younger in this section start at just $20.
Team Fastrax™ is sponsored by Selection.com®, a leading provider of criminal background checks and pre-employment screening services. Team Fastrax™ is the most ambitious professional skydiving team in the world. The parachute demonstration team has a roster of more than twenty-nine active members, with a collective of more than 300,000 skydives. Team Fastrax™ has performed exhibition skydives all over the world, for audiences large and small, as a patriotic display or as a product promotion.
For more information on the race, or to purchase tickets visit the Richmond International Raceway website.
For questions or for an interview, contact Gene Newsom with Team Fastrax™ at 513-422-5867.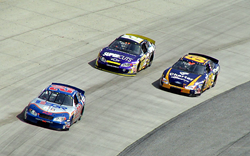 http://www.prweb.com/releases/2015/09/prweb12953774.htm