A wine tradition lasting over 50 years.
Theo nguồn tin tiếng Anh trên trang của PRWEB
RICHMOND, KY (PRWEB) JANUARY 13, 2016
Di Vino Wholesalers is pleased to announce the rebranding of its signature wine label, Italo Cescon, often referred to as its "stick" wines. Italo Cescon wines are recognized in Kentucky and around the rest of the world for their unique taste and packaging.
Italo Cescon was established in 1957, not far from Venice by founder Italo Cescon. The history of the stick, or Tralcetto, dates back to its founding. It is a thin, twisted bit of cane picked from the vine pruning originally by Cescon's grandmother, Anna, and wound around the neck of each bottle of wine produced by Cescon. The Tralcetto is a symbol of ancient winemaking that expresses itself through natural wines and an enduring passion for discovering each bottle's "soul," as expressed by Italo Cescon.
Today the company is managed with the same passion and love by Cescon's children, Gloria, Graziella and Domenico, and his wife, Chiara. Preserving the secrets and the memories of their father, they keep the tradition of high quality wines with research and production of wines categorized in the regions surrounding Venice.
Domenico Cescon calls the family's three generations of wine making "a family art." He said the use of the Tralcetto serves as a symbol of "our personal tribute to a product that continues to give us joy for more than 50 years."
Italo Cescon wines are available throughout Kentucky in most local and chain retail locations. It is one of the most recognizable brands on the market and is available in six varietals: pinot grigio, chardonnay, riesling, pinot noir, merlot and cabernet.
About Di Vino
Di Vino Wholesalers is a wine distributor and wholesaler, based in Richmond, Ky., that specializes in sharing small, family-owned Italian wines with Kentucky. Since its inception in 2007, Sergio Sgro, a first generation Italian-American, and his wife, Susie, have enjoyed sharing their passion for Italian wine and food. They also sell all-natural Italian gourmet foods and espresso on their PastaAndVino.com food site where they share their passion for cooking and the Italian culture. For more information on Di Vino Wholesalers or where their wines can be found, visit divinowholesale.com.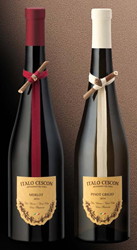 http://www.prweb.com/releases/DiVino/ItaloCescon/prweb13160830.htm