No American jazz singer has traversed a wider array of musical territory over the past five years than the Bay Area's Laurie Antonioli, whose journey culminated most recently in 2014's critically hailed Joni Mitchell tribute, "Songs of Shadow, Songs of Light." Her new duo project "Varuna," which reunites her with piano legend Richie Beirach, takes her into very different sonic and emotional spaces.
Theo nguồn tin tiếng Anh trên trang mạng của prweb.com
RICHMOND, CA (PRWEB) AUGUST 25, 2015
Since returning to her native Bay Area in 2006 from a period of living and working in Europe, vocalist Laurie Antonioli has concentrated her creative energies on her American Dreams band, which backed her on last year's breakthrough Origin Records release "Songs of Shadow, Songs of Light." For her new Origin CD, "Varuna," Antonioli returns to an important chapter in her musical life by recording intimate sessions with her collaborator of more than 25 years, the esteemed pianist Richie Beirach. The CD, Antonioli's 6th as a leader, will be released September 18.
"I've been sitting on these sessions until the time was right," says the vocalist of "Varuna," which was recorded in Leipzig, Germany (Beirach's home base) nearly 10 years ago and completed in Berkeley in 2012. "We do some of Richie's brand-new original material, with my lyrics, as well as several standards completely reimagined. The 'Resolution Suite' features three pieces improvised by Richie and me with bassist Pepe Berns. The poem on 'Revelation' happened in the moment, and 'Exaltation' was inspired by Coltrane's 'sheets of sound.'"
"Laurie is the real deal," says Beirach, "with a rich, elegant alto voice, great intonation and phrasing, and most of all, that unteachable, unexplainable element of humanity in every note she sings. Piano and voice is very intimate, with no place to hide but incredibly free and capable of magic moments. I love working with Laurie because it's truly like breathing from the same source of air. Especially on this CD, we are as one mind, one will, and one musical entity."
Antonioli and Beirach's first recorded encounter, in 1992, was a startlingly inventive date released by Nabel Records in 2005 as "The Duo Session." With Antonioli holding down a professorship at Austria's KUG University between 2002 and 2006 and Beirach teaching in Leipzig, they performed regularly in top clubs and concert halls around Europe. The prolific Beirach gave Antonioli his latest original tunes so she could write lyrics to them, an activity that has formed the backbone of their creative partnership. "Writing lyrics to Richie's music feels like an extension of our conversations," says the vocalist. "And knowing what he had in mind often informs the storyline." "Varuna" features three of these songs: the hauntingly cinematic "Inside My Dreams"; the sensuous ballad "My Love"; and the gently flowing title track, which establishes a shimmering feel that pervades the entire album.
Varuna, the Vedic god who lives in celestial waters, is also the name of the recently discovered dwarf planet near Pluto. The album's themes of time and space are echoed throughout—longing for home in "Over the Rainbow," the night wind in "Summer Night," the unseen presence of a loved one in "You're an Angel Now" (Laurie's lyrics to John Patitucci's music).
Early on in her career, Laurie Antonioli was a protégée of Joe Henderson, Mark Murphy, and Pony Poindexter, who recruited the 22-year-old singer for an extensive European tour that turned into an eight-month sojourn in 1980.
Following the release of her 1985 recording debut Soul Eyes, a duo album with George Cables, Antonioli was one of the Bay Area's most visible singers, booked at leading venues and festivals with her own band, performing regularly with Bobby McFerrin, and sitting in with luminaries like Tete Montoliu, Jon Hendricks, and Cedar Walton at Keystone Korner.
Laurie's second album, 2004's "Foreign Affair," is a bracing blend of post-bop jazz and Balkan music created with players from Serbia, Albania, Germany, and the U.S. Her fourth, "American Dreams" (2010), was inspired by feelings that arose during her years abroad and features a number of her collaborations with Austrian pianist Fritz Pauer.
Her brilliant 2014 Joni Mitchell tribute, "Songs of Shadow, Songs of Light," appeared on numerous best-album-of-the-year lists and received particularly cherished accolades from Ms. Mitchell herself, who invited Antonioli to perform at SFJAZZ's May 2015 gala celebration in Mitchell's honor (alongside Kris Kristofferson, Kurt Elling, and Patti Austin, among others).
For the last nine years Antonioli has served as the Chair of the Vocal Program at Berkeley's California Jazz Conservatory (formerly the Jazzschool). She created a unique eight-semester curriculum for the Vocal Department's degree program as well as overseeing hundreds of artists in workshops and concerts she organizes. "I enjoy the opportunity to pass on what I've learned and implement a program that is both organic and academically sound. That said, artistry is elusive and not necessarily something that can be taught, which is a very provocative challenge. I'm motivated to contribute what I can to preserve this delicate, complex, and soulful art form."
Laurie Antonioli and her American Dreams band will be appearing 9/6 at JoniFest in Greenville, SC; 10/10 at the California Jazz Conservatory in Berkeley; and 11/20 at the Unitarian Church in Berkeley, before entering Fantasy Studios 12/14 to record their next album. Antonioli and Beirach are planning a European tour, with dates to be announced, in April 2016.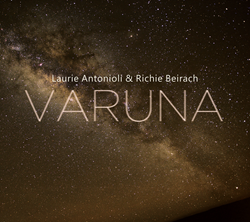 http://www.prweb.com/releases/2015/08/prweb12923954.htm