East Bay California Youth Baseball Team Going To Cuba
Wheelhouse Academy of Baseball, based in Richmond, California is excited to announce an 8-day baseball and cultural trip to Havana, Cuba, for a team of inner city 13-year olds from the East Bay, California.
Theo nguồn tin tiếng Anh trên trang của PRWEB
RICHMOND, CA (PRWEB) MARCH 28, 2016
Taking place April 6th thru April 14th, this exciting experience will provide kids from low income communities an opportunity to play baseball in a country which has produced such great players as Yoenis Cespedes, Aroldis Chapman and Yasiel Puig.
Coming on the heels of President Obama's historic visit to Cuba, this is the first chance for many of these kids to travel abroad and participate in a cultural and educational exchange with kids from another country. They will serve as ambassadors for their communities, California and the United States in the ongoing effort to improve relations between the two countries.
The eight day trip, which is all expenses paid for the kids, includes joint practices between the Wheelhouse Academy and Cuban youth teams, 5 competitive baseball games, hosted dinners with Cuban players, cultural tours and sightseeing opportunities.
The team is $2,000 away from reaching their fundraising goal of $50,000 to cover travel expenses. Donations can be made at http://www.KidsToCuba.org.
Wheelhouse Academy of Baseball, a 501(c)3 non-profit organization, is dedicated to providing inner city youth from East Bay, California communities an opportunity to achieve educational and athletic excellence. Wheelhouse Academy of Baseball programs include academic tutorials; baseball training; physical conditioning, travel teams; as well as afterschool and summer baseball camps with an emphasis on teaching essential life skills related to leadership, discipline, dedication, communication, team work, and responsibility.
For More Information:
Shiva Gaskins
Wheelhouse Academy of Baseball
5327 Jacuzzi Street, Suite 2E, Richmond, CA 94804
http://www.wheelhouseacademy.com
http://www.Facebook.com/WheelhouseAcademy
510-525-2989 or 408-431-2902
info(at)wheelhouseacademy(dot)com
Media Stories:
KRON4 Report – http://kron4.com/2015/12/17/video-east-bay-youth-baseball-team-embarking-on-trip-to-cuba/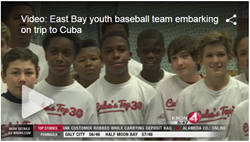 http://www.prweb.com/releases/2016/03/prweb13294028.htm